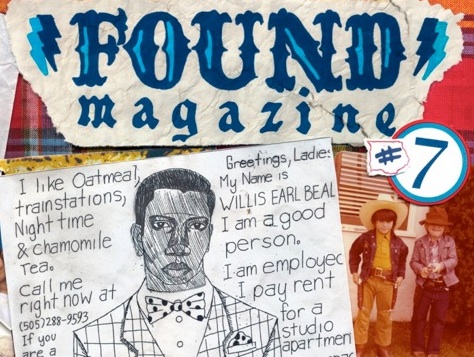 'FOUND Magazine' at Antioch College
Antioch College played host to Peter Rothbart, co-editor of FOUND Magazine, on Friday, March 8. Rothbart spoke in South Gym, sharing items published in the magazine which, true to its name, prints found items, most of which are submitted by readers. Letters, cards, photos, lists, notes, drawings, signs, memos and more, all misplaced or left behind by their original author or recipient, find their way into the pages of FOUND Magazine.
The contents of FOUND's print and web publications are often hilarious, because almost anything is funny without context. But aside from this, they're like an object lesson in empathy: the first response, when finding a letter or to-do-list blowing by on the sidewalk, especially one that seems bizarre or unrelatable, is to try to demystify it, to put oneself in the author's shoes. Rothbart, on occasion, further imagines the stories behind some of the magazine's found content by writing songs based on select letters, notes, etc., borrowing from the original material and adding his own ideas about the events surrounding its composition.
An audio excerpt of Rothbart's presentation, including an original song inspired by found material, is available below.
FOUND Magazine maintains an online archive at http://www.foundmagazine.com . Print copies of the magazine, which is published irregularly, are also available at the website.