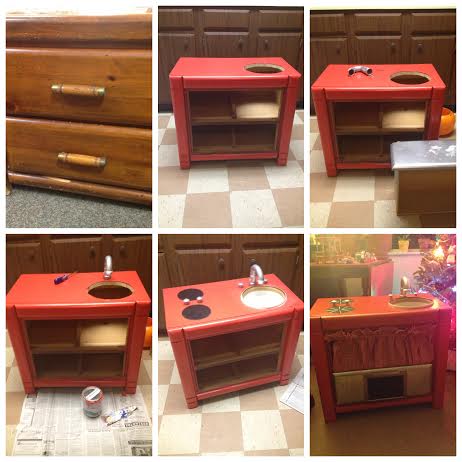 BLOG — Whatcha got cookin'?
When I was six years old, I got a Baby Alive for Christmas. For those of you who don't know, Baby Alive is not only an unsettling name that implies a darker diametric, but in its '90s incarnation, was a baby doll with a mouth that made a loud mechanical noise as it worked its jaws in a motion that vaguely resembled chewing. You could feed Baby Alive her bottle or baby food, and when it was time, she'd tell you she needed to "go potty," and would then dutifully do so. This was the most magical toy I had yet received, and I couldn't wait to tear open those packs of baby food and shove them down that mechanical gullet.
However, I am sad to report that I never fed Baby Alive; never once did she ingest anything but water from her bottle. Bless her heart, I was a terrible mother, but it was hardly my fault: as soon as the box was opened, the baby food packets were whisked away and put up in the drawer of my mom's wooden calendar, a catch-all for things that needed to be easily found, but kept out of reach of little fingers. Needless to say, the process of putting actual, halfway-solid play food into a doll pre-supposes a certain amount of clean up, and it was as clear to me then as it is now who would be doing the cleaning. Hint: not me. So the food was put away, and as time went past, both my mom and I forgot about it, as Baby Alive sat hungry in the toy box.
23 years later, I have to say: I'm glad I didn't waste my precious play time feeding a baby, because now I have to do it every day, at least three times, whether I feel like it or not. That's just how it works. Likewise, I can see why my mom wasn't jumping at the chance to clean up after a fake kid when she had two real ones to consider. Thus, when considering what to give my three-year-old for Christmas this year, I chose a gift I thought she would like, something that acts as a complement to many of the toys she already has and easily stores them, and which, most importantly, will require very little clean-up from me in the future. This year, we decided to make Lucy her own play kitchen.
The kid loves playing with this basket of plastic food she's got in her room. It sits on a high shelf, and I have more than once caught her in the act of pitching something at the basket to make it fall down. Likewise, at least three nights a week I go into her room after bedtime to check on her and find that she's climbed up on a chair to get at the set of plastic dishes and tea cups which are stacked on her shelf. If she's going to be up all night playing with faux food anyway, I might as well make it easier for her and give her some counter space.
As with most gifts my husband Anthony and I give Lucy, we had a few considerations to make, including cost and size. Whatever we give her needs to be able to fit in her room and, naturally, within our budget. After doing some research (i.e., Google), I decided that the best way to make sure these considerations were met would be to make our own, using this post from the S.A.S. Interiors blog as a major reference. Long story short, we turned this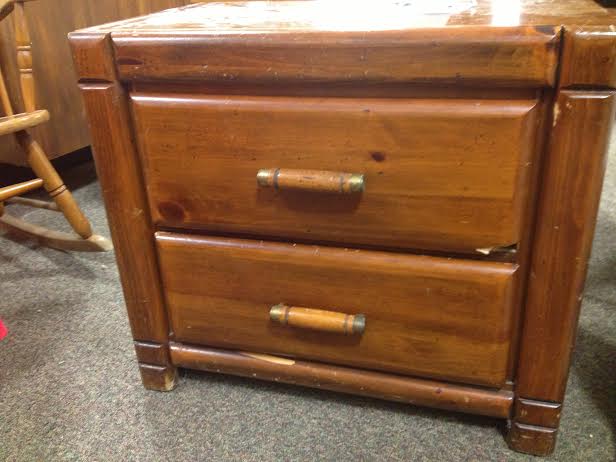 into this.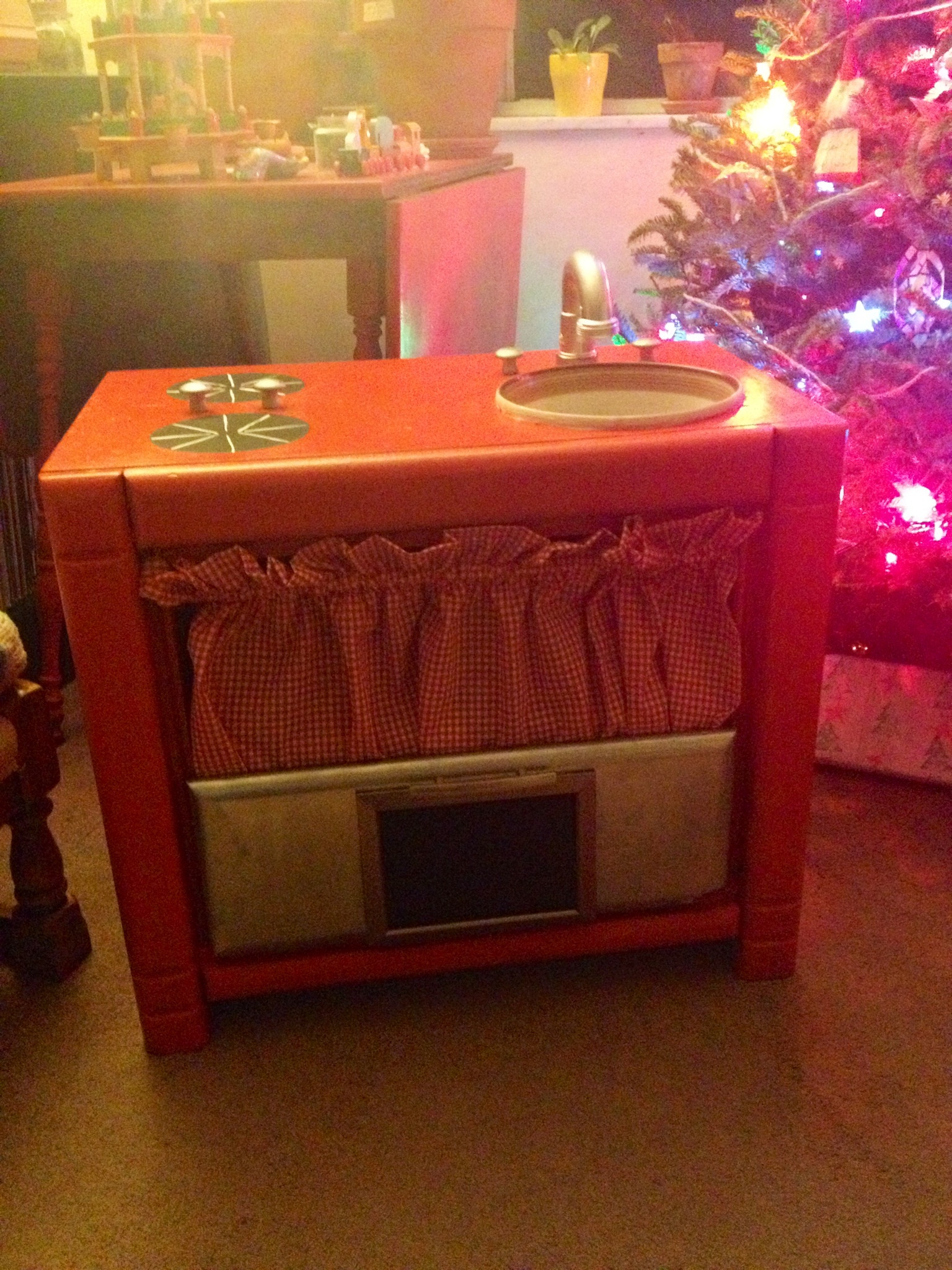 Long story slightly longer, it wasn't super hard, but it wasn't easy either. There were a few setbacks: the breaking of the jigsaw that we used to cut a hole in the top of the little dresser, the breaking of the original bowl that was to serve as the sink, and the breaking of my will to continue this project as I kept smudging the silver paint on the "oven" drawer. At one point I was in my mother-in-law's garage, spray painting a plastic j-bend to use as a faucet, and I was startled by a rogue raccoon. And then, in an effort to hurry the spray painting process along, I ended up accidentally adding a fine silver dusting to my new black boots. Under cover of darkness, I would sneak to the computer and look longingly at pre-assembled play kitchens on the Ikea website. But I had already bought a second bowl, and by God, this play kitchen was happening.
As I type this in the wee hours of Christmas morning, waiting for my husband to quit watching Netflix and go to bed so I can wrap his presents, I feel that old sense of anticipation creeping up. Not exactly the kind I used to get on Christmas Eve as a kid, trying desperately to fall asleep so that morning would come faster. I like a good Christmas present, but unlike 6-year-old me, getting one won't make or break me. But a good or bad reaction to this unwieldy undertaking from my own child? That just might.
But that, as they say, is the cost of doing business, and in this case, "business" is "craft projects for which I have no propensity." The anticipation builds. If things go well, maybe I'll see if I can't dig up old Baby Alive, and with her new kitchen, Lucy can finally cook her that meal she's been waiting all these years for.
Update, 12:56 p.m.: about 20 minutes ago, Lucy opened a present from her grandma. Inside the wrapping paper? A Baby Alive. Everything comes full circle.