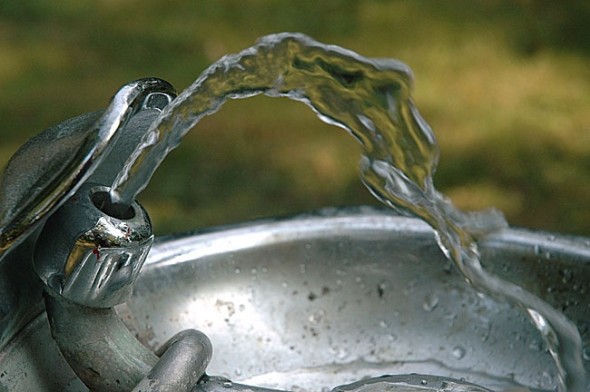 There's something in the water — no, really
As a travel reporter for an area newspaper, I have been intrigued by the quirky little village of Yellow Springs and recently visited to the town to find out what makes it so delightful.
"Sure, we're different here, and the explanation is simple," one local man told me. "There's something in the water."
A charming metaphor for the source of the community's enchanting spirit. The man was barefoot, sipping homemade Kombucha tea and softly drumming on a djembe.
He went on: "I'm being serious — there's something in the water. One taste and your hair dreads instantly. You go vegetarian. You suddenly become fanatic about composting."
Adorable, I thought, and moved on down the pretty tree-lined streets of downtown Yellow Springs with its cutesy shops and quaint streets named "Pleasant" and "Meadow." Next I encountered Hominy Corngrass, a young woman in a flowing skirt, who told me a precious story about the day she knew she would live here forever.
"I was visiting a friend of mine who lived here and she took me on a hike to see the yellow spring," Corngrass explained. "When we got there she suggested I have a drink. I thought, 'Okay, why not? What could be the harm?' Well, as soon as I dipped my tongue in the water I immediately understood the tenets of Quakerism. I could suddenly spout off the benefits of buying local. And I started calling myself an artist. I've never done any art in my life! It's ridiculous!
"Now I can't leave," she added. "I mean, I don't even have car."
Other villagers were eager to tell me how the lovely place called Yellow Springs turned their lives upside down. Men stop shaving their beards. Women stop shaving their body hair. Some people develop an "almost inappropriate love of trees," according to one local.
"I quit my corporate job and started working for a non-profit," another man I interviewed said. "I stopped wearing deodorant. Tie-dyed my whole wardrobe. It's not funny. I need help! I mean, I'm a member of four co-ops. I ferment my own kimchi!
Another villager chimed in: "Last year I went to forty-seven potlucks. Forty-seven! I made a quinoa salad for each one. And I HATE quinoa. For the love god, won't you help us???"
The clever humor of such splendid folk. Some other interesting facts locals told me about Yellow Springs: There are two people called Thor, a man named Wind and a woman named Windy, and someone that appears to be named after a song by The Who. Some even live in a nearby quasi-commune called "The Shire."
On one occasion I wandered down to an inviting little establishment called the Spirited Goat Coffeehouse and met a street musician named "Possible" who wore a hemp necklace and Birkenstocks. He had just finished playing an acoustic version of Pink Floyd's "Hey You" on guitar for the third time in a row.
"Seriously, dude, there's something in the water," he said. "We're being drugged, man. Ever heard of chemtrails? MK Ultra? Eugenics? The depopulation agenda? Learn about it."
What a poetic soul the town's inhabitants have! Later I ran into the local physician, Dr. Von Wasser, a cheerful old man of both wit and wisdom.
"Clearly, it's the water," he said. "Actually, I have diagnosed it Acute Hydrological Hippification and it's unique to this area. Symptoms include an overwhelming desire to purchase a recumbent bicycle, compulsive levy approvals and an all-consuming need to hang out at a coffeeshop all day and talk about community building. Sick stuff."
At the end of my journey, as I prepared to depart the splendid town, a wide-eyed young man grabbed my arm.
"Hey we're one man down on this ultimate frisbee game," he said. "You thirsty?"
Update: Since Yellow Springs recently began sourcing its water from Springfield, everyone interviewed for this article has left town and become a lawyer for Monsanto.