BLOG-What Frozen Things Do in Summer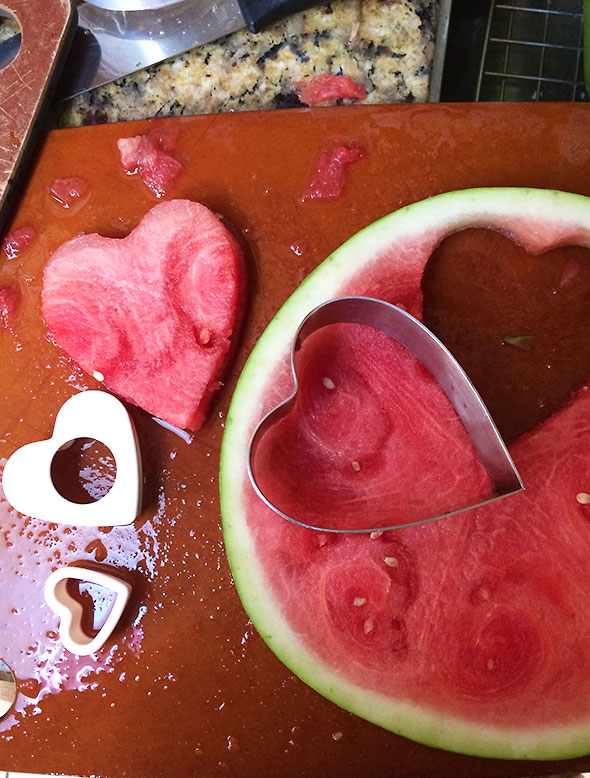 My husband made the connection. This winter, our daughter fell hard for two things: the Disney Movie Frozen and ice skating. If we put the two of them together, he figured we had the makings of a killer birthday party. I totally agreed, but without Queen Elsa's magical powers where were we going to get the ice in June? Fear not, he assured me. He promised to take care of the everything…if only I would work up a couple treats for the party guests.
I consulted with my daughter on the snacks. We resolved on producing one healthy choice and one true decadence. For the healthy choice, we both wanted to make frozen popsicles from fruit purée, but the logistics required keeping the pops cold enroute to the party. This hard requirement made us pause. The party was a hot Sunday in June, and we didn't want to risk a sloshy mess.
We settled instead on something that looked frozen: Watermelon! I fished out all my heart shaped cookie cutters and cut out "frozen hearts" from inch think slabs of a spherical watermelon that we bought from Tom's Market. I used a heart shaped biscuit cutter to cut the biggest wedges. Placing the point of the heart at the center of each round wedge I was able to cut 4-5 wedges with surprisingly little waste. We cut out smaller hearts from the leftover fruit and piled them high on a silver tray. We chilled the mounded tray as we worked on the plate of sweets.
If we were to hold a Frozen party in Summer, we quickly realized that we had to invite a particular character from Frozen: Olaf the Snowman. Olaf has an insatiable curiosity about Summer and we knew we could help him indulge that curiosity. Indulge is the operative word here. For our fixings, I had a couple of s'more kits that I picked up at the Saturday's Farmers Market the week before. The kits had two Hersey chocolate bars plus square marshmallows and graham crackers produced by the Neighborhood Nest. From these kits and a few pantry items, we would build our snowman.
Olaf S'more

1 graham cracker
2 marshmallows
2 black jelly beans
1 pretzel loop
2 poppy seeds
3 fennel seeds
1 small oval orange candy
toothpick (optional)
honey
assorted oval candies
chocolate wedges

Place a graham cracker for Olaf's summer blanket. Decorate as desired. Select a marshmallow for a Olaf's base and place a round wedge of a quartered black jelly bean for a button on the front of the base. Stack the base on the graham cracker.

Cut a marshmallow in two so that one piece is larger than the other. The larger piece will be Olaf's belly and will join to the base with its sticky cut side down. Before sticking the belly to the base, add a second jelly bean button to the belly. Break two loops off of the pretzel, and insert the loops on either side of Olaf's belly for arms. Balance the belly on the base so that Olaf will look like he is giving a warm hug. (He likes warm hugs.)

The leftover piece is Olaf's head. Orient Olaf's head up that it is taller than wide. Optionally, use a toothpick to skewer the base, middle, and head together before adding the facial features, or—like me—stack the three pieces loosely so that Olaf can be easily dismantled. Cut a mouth by slanting scissors upward at an angle and snipping a small smile in the head. Insert the orange candy for the nose. [Here I use mukhwas, the colorful after-dinner digestive of fennel and peppermint that can be acquired from the Indian delis and restaurants such as Jeet in Beavercreek.] Place the poppy seed eyes by dabbing with honey to stick. For tufts of hair, insert the fennel seeds at the top of Olaf's head. If the head is still free of the body, trim the base of Olaf's head so that the sticky side will rest on the two base pieces.

Add assorted jelly beans and malt balls about Olaf's blanket to represent his boulder-like troll friends. Add chocolate wedges too or, let's be honest, you really don't have a s'more.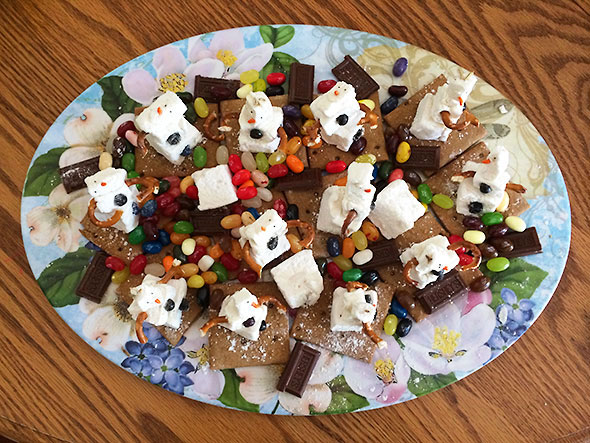 I readied enough stacking pieces for twelve Olaf's and loaded up a colorful tray. Packing our Olafs and frozen hearts into my husband's car, the children and Jeremy headed north toward the party venue: the new NTPRD Chillerice rink owned by Clark County's National Trail Parks and Recreation District in Springfield Ohio, 301 West Main Street. I followed a few minutes behind with a small load of birthday balloons.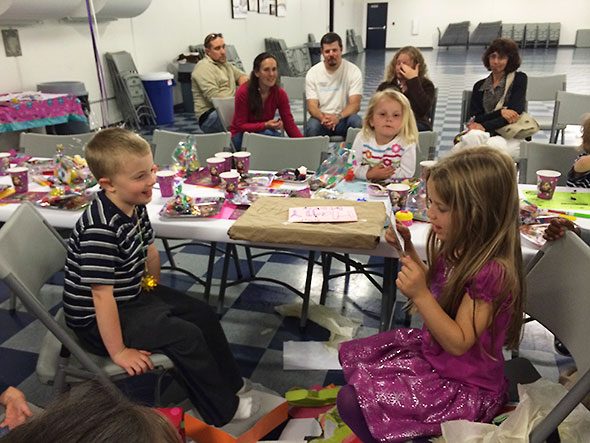 The party was held in the second floor mezzanine overlooking the ice rink. When I arrived balloons in hand, the party was in full swing. We ate watermelon and pizza until Chilly Bear came to visit the birthday girl and her friends. After warm hugs and much giggling, we cut the birthday cake, opened presents, and then headed downstairs to be fitted for ice skates. Almost everyone in our party children and adults alike made it on to the ice. Surprisingly, we had the ice almost completely to ourselves, but we didn't complain.
The rink opened in October 2013, and in my experience it's been a popular destination on most weekends. We discovered the rink mid winter through friends and, ever since, our family have been making regular pilgramages north to enjoy a turn about the ice.
My husband is the ice skater in the family—he can skate forward and backwards—and was immensely please to discover that the rink is open year round. On one of our early spring excursions, he asked the facility staff if they hosted birthday parties. They readily answered yes and pointed him to the upper mezzanine. The children were intriqued by the mezzanine as well so, when Jeremy ask our daughter if she would like to like to have her birthday there, she was not shy about saying yes.
Our daughter is on her father's heels and keen to figure out this ice skating thing. Outfitted in her wool monster gloves, fuzzy owl jacket, and a crash helmet provided free of charge by Children's Hospital of Columbus OH, she showed me how she'd been coming along. Having picked up tricks from other skaters as well as her dad, she demonstrated her developing skills at spins and sharp turns, even her warbly attempts at backward skating and jumps.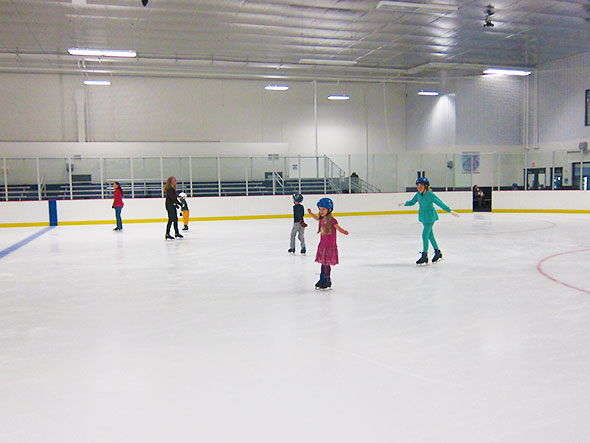 At first, her brother and I watched from the sidelines. The boy and I are unsteady about skating. Still, we enjoy watching father and daughter as they breezed by the bullpen. Leaning out over the bullpen's half wall, the boy held out a hand for his father to high five as Jerermy skated past. Farther and farther, son leaned until he caught the contagious excitement full in his body.
With bright eyes, the boy turned to me and asked for skates. We skipped out to the main lobby and laced up boots then picked our way back out onto the ice. Set but not quite ready we lifted our heavy-slippered feet up and down, trying to tap into that illusive glide that sister had so readily found.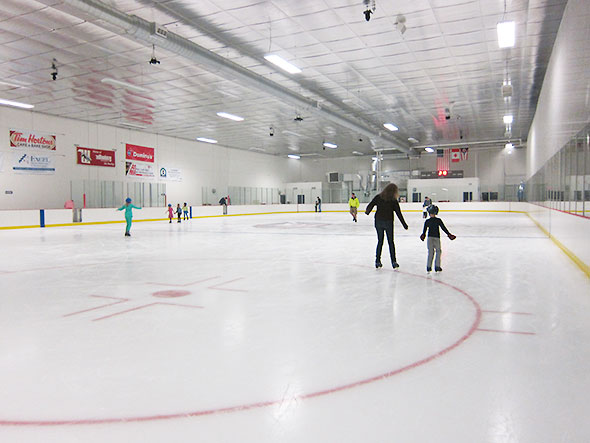 It matters not if we find exactly what our seven year old achieved. This was her moment, her big day, her frictionless joy. Enveloped in her own personal flurry, she felt as cool as can be… in Summer!