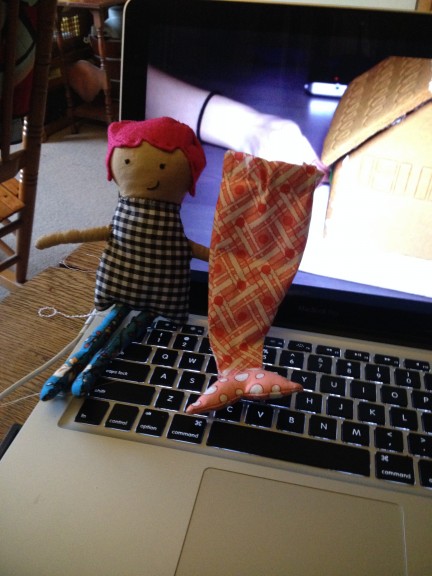 The Disney animated film "The Little Mermaid" was released in the fall of 1989. The first in a series of musicals that would become modern classics, "The Little Mermaid" was Disney's highest grossing film in over a decade (thanks, Wikipedia!). The success of the film created a generation of children who were mermaid-obsessed, and since the film was released just a month before Christmas, that meant little ones across the nation were begging their parents for a li'l mermaid of their own beneath the tree.
25 years later, the mermaid love has not diminished. Yes, Disney's latest hit, "Frozen," means a lot of kids will hope to find a supernatural Norwegian snow queen in their stockings come Christmas morn, but mermaids will always be cool. This is clear to me especially, as my four-year-old, Lucy, told me that a fish lady doll was her number one Yuletide wish this year.
I have to confess to breathing a sigh of relief here; this marks the first year that my daughter has actually asked for a specific Christmas present, and on the scale of things that kids might request (puppy, pony, a greater understanding of the universe and its workings), I considered that it could be worse.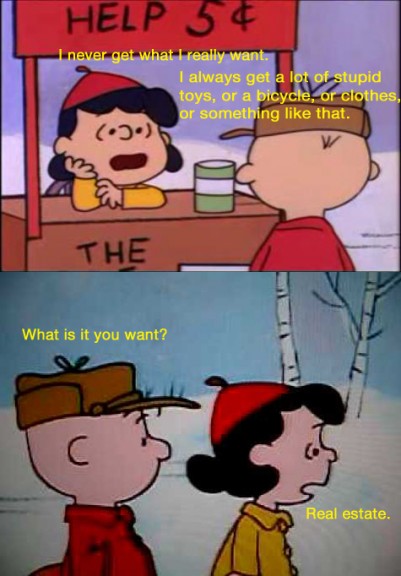 I understand the mermaid thing, incidentally. I was five years old when "The Little Mermaid" came out, and I also really wanted a mermaid doll. It took a year or so before I got one (which a September Huffington Post article explained might have been because Disney wasn't really on the ball in terms of merchandising after the film came out, a mistake it has most certainly not made concerning "Frozen"), but when I did, I was the happiest kid on the block. My doll was a perfect facsimile of the film's eponymous little mermaid, Ariel, with apple-red hair, shiny green fins and that curious purple shell bra, which certainly can't do much in the lift and support department. She had a pull string on her back, and when you pulled it, she said some of her more famous lines, or sang a little song.
Yes, she was a great doll. But there was one thing that always sort of disappointed me about this particular doll (sorry, Mom and Dad, or Santa, I guess), and that was the fact that, unlike her film counterpart, this Ariel did not have the ability to change back and forth between mermaid and human form. She was a mermaid forever, and as a human girl, I simply could not relate to this. Plus, Ariel herself had extolled the virtues of legs in her big musical number, "Part of Your World," the one I've been belting in the shower since before I was even old enough to bathe myself: "Flippin' your fins you don't get too far," I would croon. "Legs are required for jumpin', dancin'."
So, when Lucy asked for a mermaid, I was determined that she would not feel this same disappointment (make the world a better place for you children, right?), and resolved to find her one with legs and fins. But Lucy had specifically requested a soft doll, one she could cuddle, and the only ones I could find with the fin/legs conversion option were the hard plastic kind, the bath and pool toy kind.
"Are you sure you want a soft one?"
"Yes mom."
"And not one that goes in the water?"
"Not that kind."
"A soft one? For sure?"
"YES MOM."
In the end, I decided I was going to have to make one. And since, last year, I managed to build my kid a play kitchen out of a bedside table, I figured, how hard could a mermaid possibly be?
Well, as it turns out, I was a band kid all through middle and high school, which means I was learning how to play "Louie, Louie" on the trumpet instead of taking home economics, and thus, never learned to sew. Likewise, when my mom went through her crafting phase during my early '90s childhood, hot glue and puff paint were the order of the day, so there wasn't a lot of sewing going on then, either. My one sewing lesson ever happened last year, when I attended an embroidery workshop at the library and learned the back stitch. (Which reminds me: our library is awesome. Support your local library.)
So, armed with the knowledge of a single hand stitch, I found a fairly easy looking pattern on — where else? — Martha Stewart's website, and went to work.
One particularly nice thing about making this doll was that I already had all the materials. Since I, like my mother before me, am going through a crafting phase in my early 30s, I have been hoarding fat quarters of fabric for no particular reason for the last few years. You know, "just in case." This turned out to be that case.
I'll spare you the details of needle-poked fingers and screams of rage in the night, but suffice it to say that sewing and stuffing a doll was not the easy little project I had imagined. Especially when I had neglected until too late to notice that I was supposed to increase the size of the printable pattern by 50 percent before printing, and was therefore operating on a much smaller, much harder-to-stuff scale. In the end, I got the dang doll made, but I had to knit a tiny scarf to cover the neck, where the very visible black stitches make this otherwise cute little toy look Frankenstein-esque.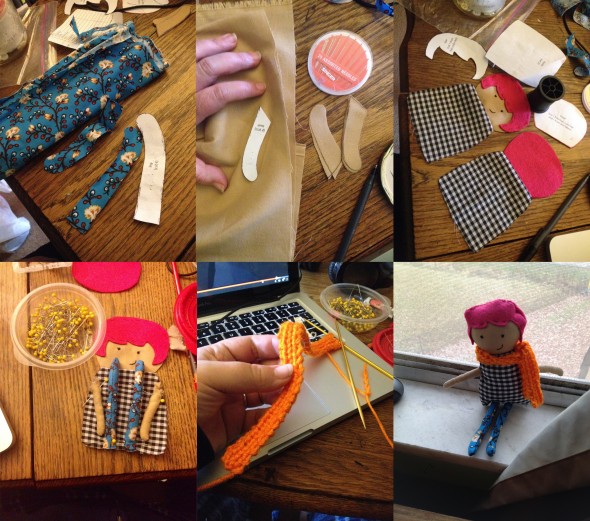 You might notice that this doll is missing something very crucial: anything remotely mermaid-ish. Well, I had thought that I would eventually sit down and find some sort of a pattern for a removable mermaid tail. In the end, I just decided to draw and sew my own, and, as I do with most things I blindly attempt in life, hoped that it would just kind of work itself out.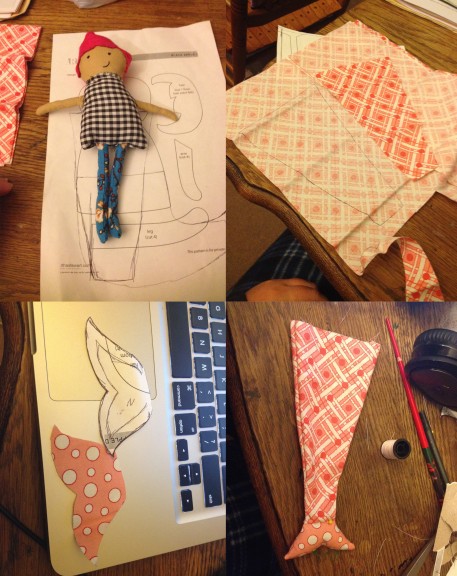 Which it did, mostly. There was a point where I accidentally sewed the fins up inside of the tail. Like I said, I'm a human, and don't really understand much about mermaid anatomy. Nevertheless, I eventually figured out that the fins have to go on the outside to work, and managed to get this cute little sea lady finished.
So, will this cuddly ocean maiden pass muster for little Lucy? I honestly can't say. I do know this, however: the day after I finished the doll, feeling really proud of myself and occasionally patting my own back, Lucy came to me and said this:
"Hey, mom. Can my Christmas mermaid swim in the tub with me?"
"Uh…swim? In the tub? You want one that swims in the tub?"
"YES MOM!"
That afternoon, exhausted and bedraggled from an all-night sewing marathon, I drove to a discount store in Fairborn and bought this entirely plastic and submersible monstrosity for one American dollar: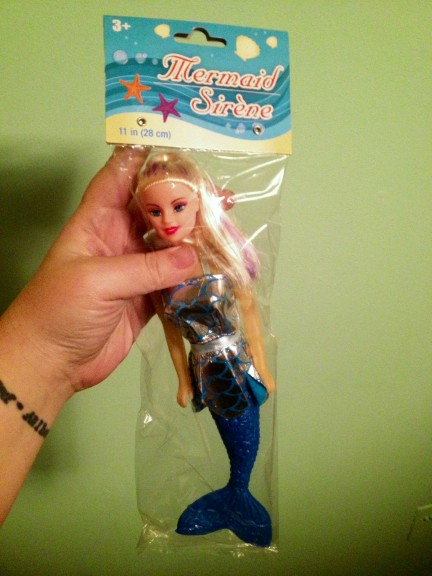 God bless us, every one.