Bicycle delivery service gears up
Craving lo mein but stuck in the house? Forgot the cilantro in your recipe with company on the way? Sick on the couch and in need of a pack of cold medicine?
A local man is waiting at the ready to bring you what you need — and he'll do it on two wheels.
Corey Elbin launched Yellow Springs  Delivery Service this month and is already pedaling around town rescuing those without transportation, time or both to run their errand.
Not only will Elbin be fast and efficient — delivery times are 15 minutes on average — he'll also keep your delivery confidential. And he's happy to make the trip for you, even in the dead of winter, he said.
"This is a guilt-free commitment," Elbin said on a recent four-degree morning. "I'll show up with a frozen smile."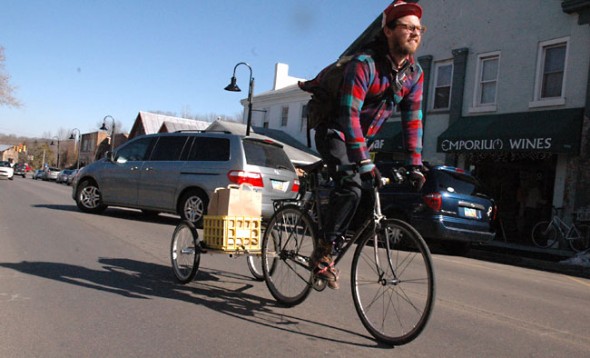 The new delivery service costs a flat fee of $5 per trip and any additional stops in town cost $2. Elbin can be reached by phone or Facebook and is available for deliveries from 9 a.m. to 10 p.m. seven days a week, rain, snow or shine.
Elbin said he started the venture to support himself and downtown businesses, which struggle in winter months. Elbin, a 30-year-old native of the Findlay area, came to the village three years ago from Denver, where he lived without a car as a bicycle commuter.
For a delivery request or more information, contact Elbin at 419-889-3749 or at the Yellow Springs Delivery Service Facebook page.
Read the full story in the Jan. 22 issue of the News.