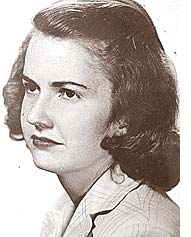 Mary Allott Agna passed away at home on Jan. 6. She was 90.
Mary was born on Sept. 18, 1924, in Alliance, Ohio, to Gwen and Guy Allott. She was so proud of being their daughter — her mother was one of the first registered nurses in the state of Ohio and helped nurse many young men at Camp Sherman through the flu epidemic of 1918. Her father was the mayor of Alliance and owned the local hardware store where she worked during the Great Depression, supporting many families through a barter system. Her father became blind as an adult and she and her mother were his eyes, allowing him to continue to be a productive and active person until his death. They climbed Mt. Katadin together and traveled extensively.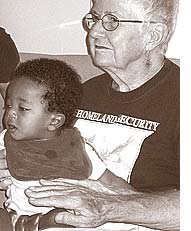 Mary attended Mt. Union College in Alliance and graduated from the University of North Carolina at Chapel Hill with a major in bacteriology. She became a physician, graduating from the University of Cincinnati Medical School in 1949. She met her husband, James W. Agna, at UC. They celebrated 65 years of marriage in September 2014. Theirs was a remarkable love and a devoted partnership. They led lives of service and dedication to social justice and change. They were in the U.S. Public Health Service in Burma (Myanmar) from 1951–53. Mary had her first of five children, Gwen Agna, there, in Rangoon in 1952. Four more children were added to the family: Jacob, Molli (Diebold), Brigitte and Tom. She and Jim moved their family to Haiti in 1958 and worked at the Hôpital Albert Schweitzer, in St. Marc.
The family established their home in Yellow Springs in 1959. Mary worked as a research assistant in anthropology at the Fels Institute for Human Development and also as a physician at the Yellow Springs Clinic. She then served as the Clark County health commissioner and after as the Greene County health commissioner, where she was responsible for instituting many progressive community health practices. During that time, she also served as clinical preceptor for the Department of Environmental Health at the University of Cincinnati (1965–70). The family moved to Cincinnati in 1970, where she and Jim joined the University of Cincinnati Medical School faculty. She became the assistant clinical professor of environmental health and community medicine at UC and the Assistant Health Commissioner for the Cincinnati Health Department (1970–74). She then served as the chief health officer for the Northern Kentucky District Health Department. In 1974, she secured a federal grant to start the first family medicine residency in the U.S. at the University of Cincinnati, where she became the assistant dean of the College of Medicine and associate professor of family medicine.
In 1979, Mary and Jim returned to live in Yellow Springs, where they both joined the Wright State University Medical School faculty. Mary was the associate professor and vice chairman of the department of family medicine, as well as the associate professor of community medicine and professor emeritus at Wright State. Mary was a member of the University of Cincinnati and the Wright State University Medical School Admissions Committees for 43 years, retiring from Wright State's in 2013. During her years on the Wright State Admissions Committee, the number of women medical students rose to over 50 percent, in part due to Mary's commitment to equal representation between men and women.
Mary was a lifetime member of the American Academy of Family Practice, member of the Greene County Medical Society, the Ohio Academy of Family Practice, the Ohio Public Health Council (1974–81 and 1989–96) and Phi Beta Kappa.
Mary served in many volunteer community roles in Cincinnati and in Yellow Springs, including as the chair of the Board of Trustees of Friends Care Center Long Range Planning Committee and the national Professional Advisory Committee of Coordinated Home Care. She was instrumental in making sure the elderly nationwide had the option of living out their final days in their homes, where she did. She volunteered at Planned Parenthood clinics, reflecting her commitment to women's reproductive rights and advocacy for low-income and underserved women. She and Jim are lifelong members of Physicians for National Health Care Program, being committed to universal health care for all. They were active in the civil rights movement and were one of the families in Yellow Springs who welcomed an African-American student, Sam Taylor, to their family in 1960 so he could attend John Bryan High School when the high school in Farmville, Va., closed rather than integrate.
In her retirement, Mary taught knitting to Yellow Springs High School students and was active in the Council on Aging and the Yellow Springs Senior Center. She was a member of the Yellow Springs Shakespeare Club and the Unitarian Universalist Fellowship of Yellow Springs. She was an avid reader of books and of the New York Times, The Nation and The New Yorker.
Mary will be remembered as someone who always delighted in other people's company and for her joie de vivre (she loved the French language, too). Mary was so kind, warm and humble. She did not suffer cruelty or hypocrisy. Over the years, she and Jim loved to entertain family and friends with Burmese curry dinners and cookouts. She was a lover of nature, opera, and all things Native American. Mary's great lifelong passion was horses. She grew up with them, remembering all by name and personality. Her last horse, Kizzie (Kismet), a Tennessee Walker, lived at the Funderburg farm, where she rode every day through her early 80s. She taught many to ride and to respect horses, most especially her children and grandchildren.
Mary's professional and volunteer accomplishments were legion. But by far, her and Jim's greatest achievement, in their eyes, is their family. They all gathered to celebrate her 90th birthday in September and published a book of her letters and memoirs in honor of the occasion. She is survived by her husband, James; daughters Gwen (Tom Marantz), Molli (Steve Diebold) and Brigitte (Andrew LaCroix); sons Jake (Patty Tobias) and Tom; grandchildren Nell Marantz (Alex Smith) and Kate Marantz, Eve Ackil (Dan Ackil) and Mae Agna, Chad, Paige Diebold Babb (Brian Babb), Faye and Jake Diebold and James Wasihun Agna LaCroix; great-grandchildren Esme Fielder Smith-Marantz and Lila Mae Ackil and many dear friends. Jim, her children and her grandchildren were so proud of her, of her accomplishments and of being a part of her family.
The family wishes to thank Teresa Bondurant for her loving care, the care assistants at Arcadia Home Care, Hospice of the Miami Valley, Dr. Pam von Matthiessen and Friends Care Center. In lieu of flowers, donations in her memory can be made to Physicians for a National Health Program 29 E. Madison, Suite 602, Chicago, IL 60602 or Yellow Springs Community Foundation, P.O. Box 55, Yellow Springs, OH 45387.