Clifton earthship workshop announced
Lauren and Zac Craig are building a customized home just outside of Clifton — about four miles east of Yellow Springs — in the model of the Earthship, a design conceived in the 1970s as an off-the-grid earth-berm solar home built from recycled materials. It harvests rainwater, is heated by the sun and cooled by the earth and reuses what some might consider garbage.
"It's a home that takes care of you," explained Lauren Craig in an interview last year. "It's a living, breathing thing that uses resources that we no longer had a use for, like tires."
Tires rammed with earth will make up part of the home's 1,700-square-foot one-story structure. Rainwater harvested from the roof and stored in three 1,700-gallon cisterns will provide water for drinking and bathing. A wood-burning stove will be for cooking. A super-efficient rocket stove and radiant floor heating will keep the family cozy and warm. Grey water, such as from dish water will be recycled onto vegetation on the property and composting toilets will break down wastes naturally.
The Craigs are inviting others who want to learn about Earthship construction to participate in workshops and workdays to help build their home. The first one of the year will take place on Saturday, May 2, and Sunday, May 3, and will cover the following:
Site preparation
Obtaining building materials and obtaining special permits through the EPA
Overall costs of building an earthship
"Pounding" a tire by hand
"Pounding" a tire with a pneumatic tamper
Installing drainage
Building the berm
Compaction tests via geotechnical engineers
Constructing a half-tire, etc.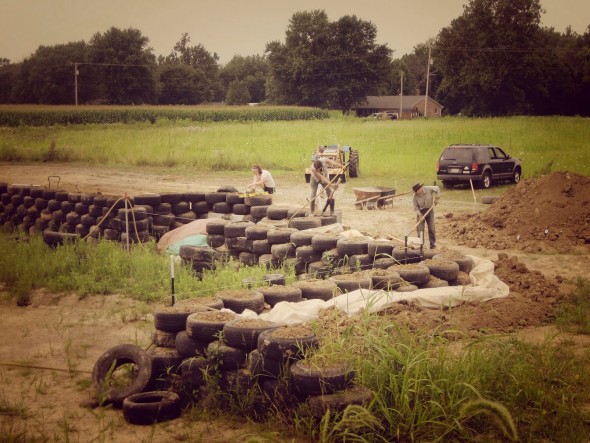 The cost for the workshops, 9 a.m. to 5 p.m. each day, is $25, which mostly covers the cost of food. Subsequent workshops will include framing an earth-rammed tire home, building slip straw walls, as well as earth plastering and bottle wall construction (dates to be determined).
The Craigs hope to complete the tire portion of their home by this summer and hope to have the structure under roof by next winter.
For more information and to register, visit: http://secondhandhomeproject.blogspot.com