The berry bushes have blown themselves out. Summer has moved up and on, certainly away from the sweet gushing gentleness of strawberry, black cap, and red raspberry. Basil plants are now towering over forests of green and purple as spicy peppers elongate, garlic bulbs mature, and radiant bursts of red tomato fleck the garden.
Temperatures soared in the final days of July, and the outside humidity has become so intense that our glasses fog up as soon as we open the front door. A crowd of vegetables has corralled itself on the countertop of the kitchen. Tomatoes have congregated into cliches of three and four. Not to be neglected, they threaten to explode at any time into a cloud of seeds and fermented pulp. My husband and I learn to pay proper attention.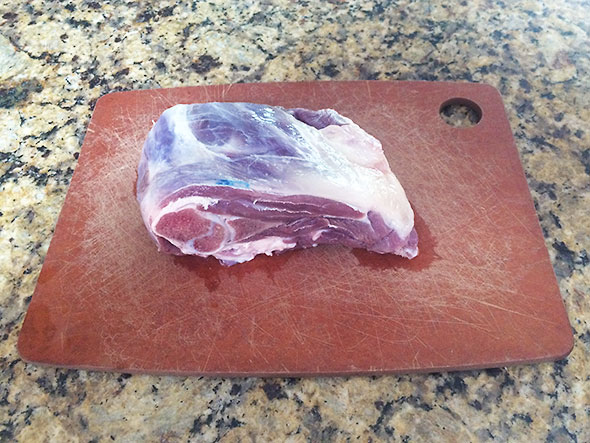 My husband and I are working together in the Saturday kitchen, actively resisting the urge to throw elbows. We are knee deep in food prep. The crowded counter offers variety and challenge. We leave them at our peril to stew in their juices. Instead, we transfer the vegetables to heavy side pots and add heat. They can stew to contentment within the armored walls.
My husband defrosted a hind of goat meat yesterday. Having rubbed it down with horseradish, he is now browning it on the stove top. Collecting a group of root vegetables—-orange carrot, purple potato, white onion—he gives them a much needed bath and prepares them for temperature regulation. Jeremy rotates the meat to brown on all sides, then adds to its pan juices tumbling in large cut hunks of carrot, potato, and onion.
I am set up with the family crockpot opposite my husband. While my husband prepares the evening dinner, I'm gathering tomatoes and garlic to submit to long slow heat. Jeremy has graciously minced half an onion for my use and I sauté the white shards in olive oil until they bubble enmass. I add the tomatoes, whole, salted, and, as yet, unskinned. I place them turning them upside down after pierced each top at their receptacle where once the fruits uterus connected to stem. Their juices will drip and stew the fruit's pulp and intensify its sugars. Later I will remove the bitter skin but not now. At this stage, I merely add two whole cloves of garlic and a few strands of oregano fresh from the garden. Almost immediately I can sense their mingling aromas. Together they will steep and steep and steep until tomorrow when I puree the tomatoes to a thick aromatic paste.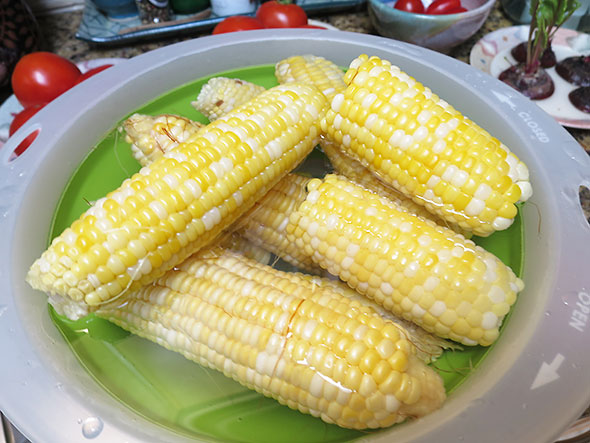 Jeremy and I reconvene, and together we divide ten ears of sweet corn into two groups. Six are husked while four cobs head straight to the grill to carmelize. I blanche the six ears in boiling water and then slice of their yellow white kernels for succotash. Our children sneak ribboned sections of sliced corn kernels for a sweet snack but I reserve enough to mix in with green peas, quartered cherry tomatoes, and sliced salsa pepper. I toss the vegetables with salt, a quarter cup of olive oil, and a splash of red wine vinegar.
The goat meat stew is ready, and my husband calls us all to the table slicing us each tender wedges of grass-grained meat. We dig in to the meal while, Across from us, our kitchen peninsula remains covered with the invading force of seasonal vegetables—eggplant, potatoes, peppers, garlic cloves and tomatoes—even as Sunday's meal sulks in a nearby crockpot. All have advanced forward today. Many like their brethren will soon be set to stew.