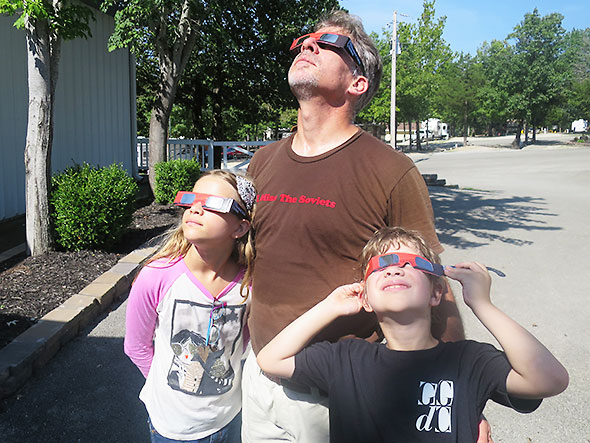 Jeremy announced the plan last year. A major astronomical event would sweep the United States this summer and we would position ourselves right in its path. The path of totality for the 21 August solar eclipse is to pass right through the city of Columbia where Jeremy's sister and brother-in-law live. Here was a change to geek out in the company of kin. We jumped in with both feet.
Jeremy made reservations in June and ordered a few dozen specialty glasses in July when they were still inexpensive and easy to find. This past week, he gave away several to local friends and students. He packed up our camping gear on Thursday and all but had the engine running Friday morning for our trip south and west.
Jeremy is set. I'm still ruminating.
I've been trying to work out exactly what is going to play out on Monday. You'd think this would be easy to figure out. The sun and moon have been constant companions after all. Still I find myself perplexed. Will the moon chase down the sun or is it the other way around?
I voiced this question aloud late last week; my husband shot back the answer…most probably the correct one. He's only been talking about the event with his physics classes at Central State University all week. My ears keep ringing though and I have yet to wrap my head around the mechanics of the eclipse.
It would easy to imagine the moon racing past the sun when we are cast in its shadow. That's not quite what happens Monday when the two bodies cross paths in our sky.
In this instance, we are better off imagining the earth and moon as square dancing partners. We are cutting a circle around the solar system's ballroom with the sun at center sawing on the fiddle and playing it hot. As we promenade around the sun, we spin around each other in a kind of do-si-do. The moon rotates clockwise around us. Its shadow flits our west-coast shoulder first at Oregon, then hits us square in the chest at Illinois, and finally glancing off our east-coast hip at South Carolina.
If we keep our eye on our dancing partner the moon, the sun will appear to race behind.
Now. Whatever you do. Please. Do not look at the sun directly.
Our bright-eyed fiddler is a wicked fellow who will blind the unprotected eye. If you haven't secured a pair of eclipse-safe glasses, the next best thing you can do is construct a sun funnel. The sun funnel projects an enlarged but muted image of the sun. The advantage of this method is that multiple people will be able to view the image at once.
Safe viewing, everyone. And safe travels to everyone chasing the totality.
We are on the move.