Continued coverage— Yellow Springs police chief resigns
On Wednesday, Aug. 18, the Village of Yellow Springs announced in a press release that Yellow Springs Police Chief Brian Carlson had resigned.
Carlson has been the police chief for the last five years and an officer with the force since 2010.
In response to emailed questions, Carlson wrote that personal reasons compelled his decision, which was "very difficult."
Asked if there was a precipitating incident Carlson responded, "My wife and I have been thinking this through for some time. We felt it was the right time."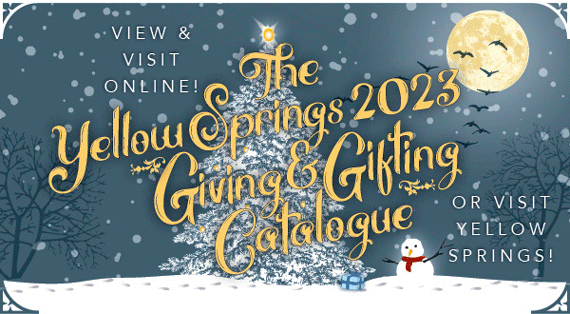 Reached by phone this week, Village Manager Josué Salmerón said Carlson "did an amazing job in the position."
"The policing culture has moved in the right direction — in line with community values," Salmerón said.
In the Village press release, Salmerón thanked Carlson for his "tireless work to modernize our police force and [the] progress made to create a social-justice-oriented police department."
Carlson took the helm during a time of heightened scrutiny for local police, Salmerón added, and accomplished much to "increase community engagement, increase community policing and change local police culture."
Carlson, who lives in Xenia Township, was promoted to interim police chief in January 2017, after former chief David Hale resigned following community protest over aggressive police actions at the annual New Year's Eve celebration. Carlson was hired as the permanent chief that summer, and most recently had his contract renewed last year.
Reflecting on his time as chief, Carlson wrote that he felt he was "almost halfway" to accomplishing what he set out to do, and shared what he thought were some his greatest accomplishments, including implementing a "social justice plan for policing," adding a social worker to the department, and starting more bike and foot patrols.
Others he listed included: "Stepping in at a horrible time in Yellow Springs and policing, and correcting the mindset here within the department. Being part of a Village team that faced the pandemic head on. Connecting the department with the community and finding officers who excel in communicating."
Carlson provided some stability as the YSPD chief after brief and contentious stints in the position by Hale and Anthony Pettiford, who was hired when John Grote retired in 2012. Salmerón said that, before Carlson, the Village had struggled to find a suitable police chief in the vein of such venerated chiefs as Grote and longtime chief Jim McKee.
"We lost our way in these last 10 years, and Chief [Carlson] helped us find our way back," he said.
Reforms at the YSPD were the focus of significant community effort over Carlson's tenure, and he worked with citizens to implement many of the suggested improvements. Although the department withdrew from the county's SWAT team and adopted its progressive "Guidelines for Village Policing" before Carlson became Chief, Carlson championed the creation of a part-time social worker position, which later became full-time, and instituted new training for officers in implicit bias and de-escalation. He also oversaw the implementation of new policies limiting the use of surveillance technology and Tasers and increased the use of the local Mayor's Court.
During his tenure, Carlson was often praised for his style of community policing, which involved fewer vehicle stops and more focus on social services. He also came under fire for his handling of several incidents, including the hiring of Officer Richard Neel, who pulled a gun on an elderly citizen, and a phone conversation with a purported KKK member that some community members felt was too ­conciliatory.
In performance evaluations and police assessments during his first few years, Carlson received mixed reviews, with reviewers praising his skills in community engagement while saying he was lacking in the areas of policy and management. However, Carlson was recently given high praise in a 2020 review that led to an offer of a three-year contract with the department.
Carlson, in an email, touched on the challenges of being chief, which included "losing community members in such tragic ways and constantly facing false accusations fueled by hate and social media."
Asked what advice he would give the incoming chief, Carlson suggested they focus on community outreach, continue to update policies, support the social worker position and "fight for funds to put these dedicated officers into body-worn ­cameras."
"This is not a job but rather a lifestyle," he added. "This is a working Chief's position. You need to be physically and mentally able to assist on every type of call for service, and fill in shifts when scheduling gets tight. The public likes to see you out, and the hours of service and meetings are very long."
Carlson will assist with the leadership transition over the next 90 days. Salmerón said he hoped an interim police chief would not have to be named, and that a new chief would take over directly from Carlson.
Meanwhile, the search for a new police chief has begun. Salmerón is currently updating the police chief job description to include a more robust description of the Yellow Springs community and its values and is assembling a citizen group to screen applicants.
Looking ahead, Carlson said he has no plans for other employment and looks forward to spending more time with his family. A musician, Carlson joked that he might "become a rock star or work at a hardware store — O.K. maybe not a rock star." He may also stay in the field of policing.
"I have been approached about doing consulting work to share this model of social work hand-in-hand with policing," he wrote.
Carlson also shared gratitude for Salmerón for his "constant support in my efforts to change policing in Yellow Springs" and for the larger community.
"I want to thank the community for believing in me, and placing their trust in my dedication to public safety. It has truly been an honor and I love this community."