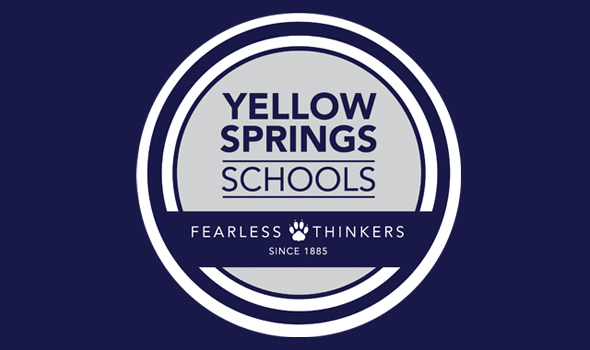 Board members, treasurer end tenures
Grateful goodbyes and an official welcome were expressed Monday night, Dec. 20, during the Yellow Springs school board's monthly business meeting, held in person in the Mills Lawn Elementary School gym and livestreamed on the district's YouTube channel.
The last meeting of the year was also the last in the tenures of three board members — Steve Conn, Steve McQueen and Aïda Merhemic — as well as for district Treasurer Tammy Emrick.
While Conn, who was absent Monday evening, chose not to run for re-election, citing professional commitments, McQueen and Merhemic had hoped to seek new terms, but failed to get their names on the fall ballot after filing incomplete candidate petitions.

Conn is completing his board service after two four-year terms, with the last three years as president. Merhemic is finishing her fourth four-year term, with the last three years as vice president and a number of previous years as president. McQueen is closing out a single four-year term and has suggested that he might seek election again in the future. The current term of service for all three ends Dec. 31.
Treasurer Emrick is retiring, also effective Dec. 31. Having already retired from a career in school finance, including stints as treasurer with the Fairborn and Miamisburg school districts, Emrick came to Yellow Springs on an interim basis in the spring of 2019, after the board declined to renew the contract of the previous treasurer. She accepted the full-time position officially in late fall of that year and served in that capacity for the next two years, during which time she became a village resident. The board has named Greeneview school district Treasurer Jacob "Jay" McGrath as her replacement.
Another departure also recognized Monday was that of Sylvia Ellison, who resigned from her position on the school board in November after taking a job with the Greene County health department. Ellison was two years into her third four-year term, and the board has named Luisa Bieri Rios, who ran unsuccessfully for school board this past fall, to complete the final two years of the seat's term.
Monday night's meeting began with Bieri Rios standing to take the oath of office, administered by the soon-to-retire treasurer.
With the official action completed, district administrators and representatives of the schools' teachers and students, as well as the broader community, expressed gratitude for the work undertaken by the outgoing office holders.
"I wanted to come tonight to thank school board members for their service," village resident Scott Fife, a retired teacher and administrator with Centerville schools, said during the community comments portion of the meeting agenda.
He pointed to the district's ongoing discussions about school facilities needs, asserting that local district leaders are unique in "really going out of their way" to include the community.
"It's difficult work you do," Fife said. "I hope the new board will be as good as you."
District librarian Eli Hurwitz, president of the teachers union, also shared the gratitude of faculty members "for supporting us as teachers," particularly amid the continuing pandemic.
Superintendent Terri Holden said that she felt aligned with Treasurer Emrick, as the two came into the district at the same time, and she appreciated Emrick's reorganization of the treasurer's department, as well as her unique sense of humor.
"She will be missed," Holden said.
To the existing board members, Holden offered her thanks and admiration.
"In today's highly politicized climate, holding a seat as a board member is not easy," she said, noting news reports across the country of school boards being "criticized and/or demonized and even threatened with violence."
"In many ways this is a thankless job," she continued. But "the role of board member is critical" to the success of a school district, she said.
Seeming to allude to the recent election when the facilities levy became a leading issue among school board candidates, Holden asserted, "This is not a single-issue effort."
The building principals also spoke about the role and importance of the school board.
Presenting the departing office holders each with a commemorative piece of art created by fourth graders, Mills Lawn Principal Megan Winston said that a school board "sets the tone for the district." New to the district this year, Winston said that in her experience, the Yellow Springs board has fostered a sense of belonging, as well as a climate of kindness.
Jack Hatert, principal of McKinney Middle School and Yellow Springs High School, said he appreciates the interactive support that he has received from the board, adding that board members are "the eyes and ears in the village, and help shape who we are in the schools."
Some individual board member contributions include Ellison's advocacy for students with special needs and her involvement in the theater program; Merhemic's work on the high school handbook committee as well as with social-emotional and mental health initiatives; and McQueen's racial equity efforts and programming. Conn, and McQueen most recently, served on the Greene County Career Center Board, and both Conn and McQueen served as the board's representatives on the Yellow Springs Development Corporation.
Speaking individually, the outgoing board members shared some of their thoughts and feelings about their time in office.
"Sixteen years is a long time, but I have to say it went by pretty darn quickly," Merhemic said. "I enjoyed this position, dare I say," despite the difficulties that come with it, she added. "It's the students that kept me motivated."
A licensed therapist, Merhemic said that even difficult issues offered opportunities for growth.
"I value human development beyond anything else," she said. "I've learned so much, and I appreciate you all and what you've achieved."
McQueen, who also stressed how much he had learned, said he'd "dreaded" this last board meeting, as he "wanted to [serve] a little longer than I have."
One highlight, however, was achieving a "lifelong dream" of being a graduation speaker, which occurred last spring.
"Thank you for the best four years," he concluded. "It's been a pleasure."
Ellison also offered her thanks, specifying the district leadership, teachers and staff.
"It's been really a pleasure serving with you in this role," she said.
Ellison also spoke in support of the district's mitigation efforts in response to the COVID-19 pandemic.
"Because I am a public health professional, I am extremely proud of the school district and how everyone here has come together," she said. "My hope for the future is that there will be the same diligence."
Joining the board in January will be Dorothée Bouquet, Judith Hempfling and Amy Magnus.
Continuing member TJ Turner, appointed in 2018 to fill an unexpired term and elected in fall 2019, is the only remaining member of the previous board.
In other school board business Dec. 20:
• Treasurer Emrick reported that the first five months of fiscal year 2021–22, which began July 1, saw the district about $270,000 ahead of projections. Although revenues were about $39,000 less than budgeted, expenses had been about $309,000 less than expected.
• The board accepted donations of $300 from the Yellow Springs Community Foundation for the annual Holiday Senior Luncheon dessert and $380 from Carrie Berkey to the middle/high school.
• Superintendent Holden reported that Yellow Springs is seeing a "significant rise in mental health concerns for our students." The issue is national in scope, she said, noting that U.S. Surgeon General Vivek Murthy issued a report earlier this month identifying a youth mental health crisis in the country.
In light of this situation, the district will begin administering a screening program for mental health and substance misuse at the high school after the new year. She said parents will receive notice beforehand and may opt out. In her written report to the board, she described the program as a 10-minute, face-to-face screening, which will be conducted by Rachel Miller of TCN/Family Solutions; Emily Magoteaux, the Greene County Education Service Center's prevention coordinator; and possibly other staff from those groups as needed. According to Holden, the program has been and/or is being used by West Carrollton, Centerville, Miamisburg and Kettering schools.
• Holden also reported that, as part of the district's racial equity work, teachers in January will begin a "mini-pilot" program to use the curriculum review tool from the Center for Anti-Racist Education, or CARE, and the Stand for Children Leadership Center, or STAND.
The program's principals are:
– Affirm the dignity and humanity of all peoples;
– Embrace historical truths;
– Develop a critical consciousness;
– Recognize race and confront racism;
– Create just systems.
According to Holden, the tool "allows us to evaluate all curriculum resources we use across the following five domains: people, racism, history, systems and consciousness. … The results will help us think about the why behind the resources we use, and whether or not a specific resource supports teaching and engaging our students in ways meaningful to them."
She added that participation in the mini-pilot will also give the district access to a database of resources rated by other teachers in districts across the country.
• The board approved the temporary hiring of substitute teachers regardless of whether they have a bachelor's degree, as allowed by recently passed Ohio legislation for the 2021–22 school year.
"The long and the short is nobody can find a substitute," Holden said.
Other requirements, including passing a background check and obtaining a substitute's license from the Ohio Department of Education, must still be met.
• A report by Holden on recent enrollment numbers will be covered in a future issue of the News.
• The board's next meeting will be Thursday, Jan. 13. The annual organizational meeting will begin at 6 p.m., with TJ Turner serving as president pro-tem. The regular monthly meeting will follow.