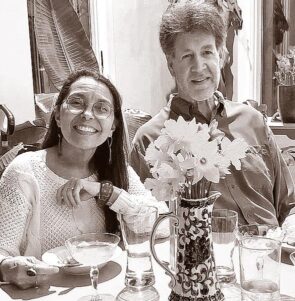 Michael Aloys Reichert, age 61, of Yellow Springs, Ohio, passed away Sunday, April 3, 2022.
Born in Coldwater, Ohio, on March 6, 1961, Mike was raised in Montezuma, Ohio by Arnold and Berniece Reichert, along with brothers Steve and Chris. He was a standout basketball and baseball player at Celina Senior High School and started on the University of Dayton's basketball and baseball teams, graduating in 1983. He met his wife, Jo Frannye, when he was a ballplayer and she was a cheerleader at UD.
Mike was a man who had a way with "Star Trek" quotes, doing his J. Jonah Jameson impression, demanding pictures of Spider-Man, and holding his boys in his arms. He was stoic in a crowd, a riot in good company. His wisdom and curiosity sparked a fire in the hearts of his loved ones that burns strong even in his absence. From late-night movie marathons and road trips we wished would never end, to baseball games in Gaunt Park, we will love him until the stars turn cold.
He was our avowed "people hater" who was such a deeply caring server of people. He loved his brothers, Steve and Chris, and their families dearly. He loved his Robinsons, his Joe and Joycie, and adopted them as his own. He had so many adopted families: the YSHS golf team he shared his love of the game with; his '83 University of Dayton Flyers basketball team with his friend Mike "Birdman" Byrd; and his pack of little leaguers, the undefeated Athletics, to name only a few. Family was important to Mike, and he built his own business from the ground up, Ocean Marketing, so he could be with his wife and children.
We will miss our "song of the day." On Sunday, it was "My Friend the Witch Doctor" that he was oddly mashing up with "Eep Opp Ork Aha" from "The Jetsons." He was funny. He had such a good sense of humor and always made us laugh. He loved us. He loved being around us. He loved his kids and he loved his cats. When we were on our way someplace — in the driveway ready to back out or a bit underway — Mike and Frann would hold hands and look at each other for a second. Then one or the other would say, "Boys, do you know what?" And the boys would say, "What?" And they'd say, "Your Mommy and Daddy love each other!" And the boys would groan in the back of the mini-van. That was the greatest gift of all: They really truly loved each other, and we love them.
We are grateful for the good, the bad and the ugly — but also the beautiful. So much beautiful.
There is also the mundane, the routine, the predictable. But there are insights, adventures and surprises. That is what sustains a four-decade venture. And love.
There is a Christmas photo Frann took of Mike and the boys in front of the tree holding scratch-offs, and we captioned it, "Guess who has a winning ticket?" Mike is joyfully waving his winning scratch-off. But he is not the winner. That man waving the ticket, those boys, joyful in his presence, that house pulsing with love and family, that woman taking the photo — she was the prize winner.
He was the Eighth Wonder of the World.
Mike is survived by his beautiful wife, Jo Frannye Robinson Reichert; their four cherished sons, Zack (Jessica), Zane, Zeb and Zeke; his grandchildren, Alaric, Aiden and Lillian; his eldest brother, Steve (Patricia); and his beloved in-laws, nieces, nephews and mother-in-law, Joycie.