Kyoto Perry connects to the 'spirit world'
Many people espouse religious and spiritual beliefs related to the question of what happens to the soul, or the nonphysical essence of a human being when a person dies. These musings are recorded through the annals of history, regardless of faith. Many believe there is an "after life," though debate rages about what that looks like. Is there a heaven? A hell?
One belief is that the soul transcends the body, or "crosses over" into another realm when a person dies, in effect, reconstituting itself into spiritual energy. People experience grief, in part because the presumption is that our loved one will never be seen again after death. A further aspect of this belief governs another question: whether the living, composed of souls still residing in the physical body, can communicate with those who have crossed over.
There are some who believe that there is a way to communicate with the spiritual entities of loved ones who have crossed over. Villager Kyoto Perry holds this belief and works with people who want to communicate with their loved ones through her work as a medium — defined as a person who is able "to communicate with someone on the other side."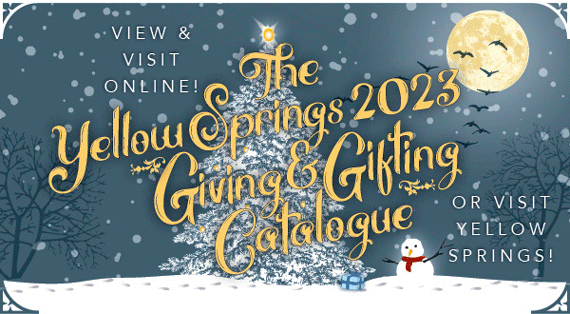 Perry, the mother of a recent Yellow Springs graduate and a high school sophomore, grew up in Yellow Springs, living in Fairborn and Miamisburg before returning to her hometown in 2016.
"From my understanding, we were one of the original families here in Yellow Springs. There were a lot more of us, but people have moved away and have died. A lot of people sold their properties. We owned a big portion of the town," Perry said.
Perry said she first realized she had a spiritual gift in 2014, when her brother convinced her to attend classes with him that taught people how to communicate with spirit entities. At first, Perry was skeptical.
"I had no clue about it. We grew up in a religious family. We weren't supposed to seek psychics or any of that, everything was the devil. So, when he came to me about it, and with me and him being so close, it was like — what?" she said.
However, according to Perry, through those classes, she discovered that by getting in touch with her own soul, connecting with other spirits can be done by following an intuitive inner guide.
"We can all do this — I don't think I was born with this gift. I found it over time," she said.
Perry credits her teacher Mike Hornback, a Dayton-based medium, intuitive psychic and healer for her spiritual development.
"My teacher, Mike Hornback, who is my spiritual teacher now — he taught us how to connect through our intuition and know the difference between our intuition and mind. When you really, really understand that, then you'll feel the connection, then you'll know where it's coming from," she said.
However, because of the stigma related to her work, the former dental assistant kept her developing abilities under wraps for a while.
"I was a dental assistant — nothing to do with this [spiritual work] — but I was always focused on this when I wasn't working. I didn't really tell a lot of people," Perry said.
Then, the COVID-19 pandemic and subsequent shutdowns changed her career trajectory.
"When everything got shut down because of COVID-19, I had time and started doing readings for my friends. Then it just blew up," Perry said.
According to Perry, her father, who had passed away during the pandemic, also encouraged her from beyond the grave. "He came to me five days [after his death]. It was his idea to do it," she said.
At first, Perry operated without a physical location. "I traveled. I went to people's houses, did readings there. I had a friend who let me use her space where I could do it. That was all through the summer when it was nice out," she said.
But when the weather started changing, Perry needed an indoor location to continue working with clients. "Lindsey Burke [owner of Ink Art Collective] came to me and offered this space to me. I really appreciate that," she said.
In October 2021, Perry, also a mindset mentor and tarot reader, decided to open Kyoto Intuitive, Tarot Readings and Medium at the collective, which is located on Dayton Street.
"We had a Halloween party, and I did readings. That was the opening for me being here," she said.
Why seek out a medium?
According to Perry, clients come to the experience with questions for the loved ones who crossed over, or to apologize.
"They want to know if they are OK, if they are proud of them, or if they are mad at them. They want to apologize for many reasons — a lot of times they don't say. I just give them a message, and they just feel so much better afterwards," Perry said.
Perry said her process to make spiritual contact is through meditation.
"Meditation — a lot of meditation. We are all connected, we just don't realize it, and when you meditate, it helps you realize there are subtle energies that are there, that our busy minds don't pay attention to," she said.
Also, before her clients come to her for a session, Perry said she takes a pause to make connections with anyone who has crossed over and makes themselves known to her and that sometimes she gets messages before clients arrive.
"A thought in my head that I know didn't come from me, sometimes it's a feeling, or an emotion. I get smells, I see things, not physically, but in my mind's eye, which is kind of like being in a movie theater, watching a show. Then I connect with that person [who has crossed over] and their energy and [find out] exactly what they want from me," she said.
Perry said she relates to people who are skeptical of the work she does.
"I understand, I get it, I didn't believe in this stuff before 2014. But all I can say is that it's nothing that's going to harm you, or anything scary. It's not the devil, it gives people relief and healing, and to be able to talk to a loved one that they miss," she said.
Tarot readings
Perry also reads tarot cards for her clients. Although once considered as primarily divinatory, many people, including Perry, use it as a tool for guidance, and to gain perspective about various life challenges they are facing.
"There were some things that came up on my path that I could handle better because of them," she said.
Developed in Italy in the mid-15th century, tarot is an intuitive process. Users first pose a question, then cards are drawn with symbols and meanings. Tarot readers, trained to understand the card's meanings, interpret them for the client.
The 78-deck card sets have become mainstream, growing in popularity in the past few years. A 2021 Financial Times article reported that business was "booming" for US Games Systems, "a leading publisher of tarot and inspirational decks since 1968." The company attributed the increase in sales to the pandemic. There are also people who, drawn to the art, collect various decks on the market.
Perry said the main reason people come to her for a reading is for clarity.
"A lot of people have specific questions on their minds before they come here. Or it's a conversation they had that morning, or something they've been thinking about, over and over again in their minds," she said.
What are some of the questions that people bring to Perry?
"Usually, it's about where's my career going, my love life — is he coming back? Am I going to find someone new? Will I be single forever? For a lot of people, it's a general reading, and whatever comes up, comes up," she said.
Perry said that people are preoccupied with issues related to love. "A lot of people don't say it, but it'll be all in the reading, so it's on their minds. It might be kind of scary to admit. That's the preoccupation because relationships are not easy," she said.
Perry operates within a collective and protects client's privacy by coordinating her schedule with others who share a sizable open space.
"We are pretty respectful of each other in terms of the noise or the music. I'm glad to be working with the ladies that I'm working with because they're very understanding and very helpful. We want to help each other with anything that we're doing," she said.
Chakra therapy
In addition to working with clients, Perry also sells some spiritual products, including chakra therapy eyeglasses. Chakra is a Sanskrit word that means "wheel or disk." According to the chopra center website, chakras, "in yoga, meditation and Ayurveda is a term that refers to wheels of energy throughout the body."
Perry said the glasses, which are different colors, correlate to the seven main chakras that run along the spinal column in the body.
"There are seven main ones that people talk about all the time, and from what I've heard there are four more above that, but there are different theories about that. One of the glasses is for your soul star, which is above your crown chakra," Perry said.
Perry said wearing the glasses is like a form of color therapy.
"You can almost feel it instantly when you put them on, and you're connected to that chakra. You're either clearing some blockages, or some thoughts you didn't realize that you were having. They just kind of release you," she said.
And people are drawn to different colors. "It's really interesting which color glasses people connect with. And some of them don't like the lower chakras and others like the higher ones, and some of them don't like the higher ones and like the lower ones," Perry said.
People interested in booking a session with Perry can do so through her Kyoto Intuitive, Tarot Readings and Medium Facebook page.