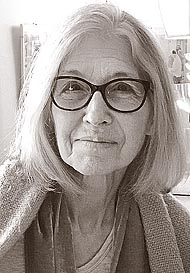 Kathy Hale, 1948–2022, passed peacefully on Aug. 4, in Austin, Texas, surrounded by family, after several years of sustaining pleasure in life while minimizing health challenges. Her delight in family and friends, music, a home of her own making, a good book and a good story kept her going. She will be remembered for being a good listener with a warm smile of delight and for her brilliance, articulateness and kindness as she lent time and insight, with a big dose of humor, into helping many navigate transitions.
Early in life she cherished singing and traveled with her chorus to Europe. She earned her doctorate from the University of Oklahoma, and taught at the college level, while raising her children, Bracken and Lee, with her then husband and dear lifelong friend, Duane Hale. Her field of communication gave her room to work on conflict resolution and mediation, particularly environment conflict, leading to many publications and professional associations. She taught at Navajo Community College in Tsaile, Ariz.; Oklahoma University; and Oklahoma Baptist University, moving to Yellow Springs, Ohio, to teach in Antioch University's master's in conflict resolution program, where she particularly enjoyed the intensive residencies. While teaching at Antioch, she spent about 10 years in Yellow Springs, the place she said she was happiest. She made wonderful homes there and good friends, and regularly walked three miles along the Little Miami River in Glen Helen and John Bryan State Park. There, she also helped her mother live out her last years in Friends Care Community. In Yellow Springs, she joined the Religious Society of Friends (Quakers), a spiritual home she found again in Fort Myers, Fla., when she moved to teach at Florida Gulf Coast University, or FGCU. Her good friends Jim and Cheryl Keen, of Yellow Springs, followed her to Fort Myers for winters, and Jeff and Beth Vawter also came to visit from Yellow Springs regularly. She worked at FGCU until her retirement, greatly enjoying friends and colleagues, also participating in the last years as an ombudsman on campus. Her FGCU colleague Maggie Hambrick describes her as a wonderful teacher, funny, brilliant and articulate. Joan Culver described Kathy as having the gift of friendship. Her long visits to France with her sister Nan and Nan's husband, Leonard Shaefer, were key in nourishing her joy for life. Her last move was to Austin, Texas, to be near her children and to live with her sister Carol, for whom Kathy was so grateful for her help.
A few years ago she wrote some pithy words about life to her niece Kate:
"I think, from my 65th year, that I have done well. There are quality people in the world wherever you live. Find them, gather them around you, and create a community that fits and nourishes you, and to whom you can contribute by being who you believe yourself to be or want to become. I find I only need a handful of close friends, a spiritual community, and interesting people coming in and out of my life to be happy. I was too slow in learning what I now see as the really important lessons for living. They sound a bit preachy, but, hey, it's my letter.
1. Live simply. You don't need to meet a wealthy world's expectations of what your home or home furnishings or car look like. You really don't need a lot. Good coffee, good books, some good travel experiences, etc. Take care of your hard-earned money. Be accountable to the Universe for how you use your earning power.
2. Live honorably. A quote from somewhere: "Recognize that your true identity is nothing more or less than the way in which you conduct your public and private affairs … the way in which, for good or ill, you let your life speak." There will be times between now and the end of your life that you are tempted to be "dodgy" in business, professional, or personal affairs. Don't do it. Be fair, be just, be true to your word. You won't regret it.
3. Look for God (god) inside your self, and respond to the "God" in each person. Try to surface the best of each person to engage with, whether in conflict or in friendship. This, to me, is a respectful way to live in the world. It contributes to our understanding of equality and justice. At the same time, be shrewd, be discerning, and speak your experience of a person or situation when necessary.
4. Spend time in silence. Be reflective, and listen for your own wisdom, or the wisdom of God (depending on how you see it) to come to you. It will. This has proven to me a much better approach than agonizing or talking it out with everyone you know, though wise friends can help you discern your own thinking about things — how you see things, what you want.
5. On justice: "Seek justice in the world, but not in your own life. … Don't get hung up on 'unfairness' you may perceive in your own life." So do what you need to do to fix it and/or let it go, but don't let it become a focus or an obsession. A whole unfair world out there needs your attention more than your little problem at work."
Kathy's parents were Marjorie Nelle House and Walter Lee Dawkins. She is survived by her two children, Bracken Hale and Lee Hale; her three grandchildren, Rune, Natalie and Braden; her three cherished siblings, Nan Dawkins, Walter Dawkins and Carol Jones; and her beloved nieces and nephews, Tim Garner, Kate Scully (who was named after her aunt Kathy), Jake Scully, Anna and Luke Garner, Brady Dawkins, Dru Stine, Lindsay Shaefer, Kerri Shaefer and Steven Shaefer.
Memorials will be held in person, with Zoom access, at Fort Myers Friends Meeting on Sunday, Sept. 25; at Yellow Springs Friends Meeting at 2 p.m. Saturday, Nov. 12; and in Sanibel, Fla., in December. A family gathering will be held in April. Find more information, pictures and an opportunity to leave a memory at KathyHaleMemorial.org.