2023 Martin Luther King Jr. Day | 'The fierce urgency of now'
"We are now faced with the fact, my friends, that tomorrow is today. We are confronted with the fierce urgency of now. In this unfolding conundrum of life and history, there "is" no such thing as being too late. This is no time for apathy or complacency. This is the time for vigorous and positive action"
—Dr. Martin Luther King, Jr., 1967
Around 200 villagers gathered in the John Bryan Community Center gym on Jan. 16, to contemplate Martin Luther King Jr.'s call to action through the "fierce urgency of now," in observation of Dr. Martin Luther King, Jr. Day. The local gathering, an annual event that celebrates the life and work of Dr. King and also offered virtually, marked the first time the program was held in-person since 2020, after the COVID-19 pandemic forced the event to virtual-only gatherings in 2021 and 2022. Before the official program commenced, about 200 villagers gathered downtown for the annual King Day community march.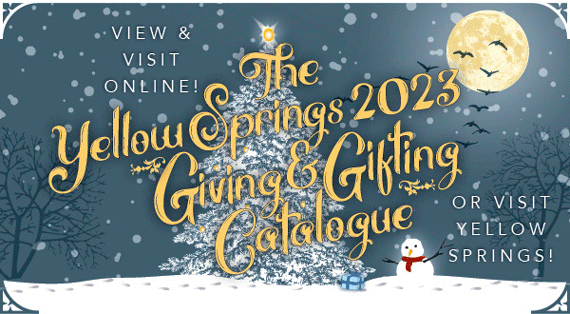 The program, organized by The MLK Day Program Planning Committee through The 365 Project, featured social movement songs performed by the World House Choir; a storytelling performance from Agraria's Story and Media Artist, master teacher and storyteller Omopé Carter Daboiku; and student peacemaker essays read by Mills Lawn fifth-grader Hazel Castilow and McKinley School seventh-grader Oshri Paschal.
This program featured a keynote message from villager Dr. John E. Fleming. According to the bio provided by event organizers, Fleming, who has a Ph.D. in American history, is an institution builder. He has served as director of the National Afro-American Museum and Cultural Center in Wilberforce, and as director and chief operating officer for the National Underground Railroad Freedom Center in Cincinnati. Dr. Fleming was involved in the development of six museums nationally, including the Mississippi Civil Rights Museum and The National Museum of African American Music in Nashville, Tennessee.
Framing his message through African American music, Fleming titled his talk, "The Fierce Urgency of Now: How African American Music Was and Is at the Forefront of American Social Justice."
"Black music has always spoken to our heritage of slavery and oppression while expressing our hopes and urgency in demanding equality, freedom and justice," Fleming told the audience.
Fleming's remarks were a brief history lesson about the influence music had and continues to have on the struggle for civil rights in this country over three centuries. Fleming chronologically named songs that have stood the test of time, including gospel songs such as the spirituals, "Go Down Moses" and "This Little Light of Mine," Nina Simone's "To Be Young, Gifted and Black, to more contemporary tunes including J. Cole's "Be Free" and Kendrick Lamar's "Alright."
"The central theme in African American history is this fight against racism and the ensuring struggle for equality," Fleming said.
Villagers Elaine and Keith Kresge were presented with the annual Peacemaker award for their community service to the village. The Kresges, married for 54 years, "like to work together," said Elaine Kresge. The couple also thanked the community "for giving them so many opportunities to be of service." According to their bio, the couple has been involved with many community organizations and programs including their participation in Courageous Conversations and "Speaking up for Justice" events, The 365 Project Juneteenth celebrations, volunteering for the Wheeling Gaunt Sculpture project dedication and their work with the Yellow Springs branch of the public library, designing and installing a Little Free Library at Gaunt Park. Environmentally minded, the Kresges also volunteer with Tecumseh Land Trust, Agraria and Glen Helen.
YSEQUITY's fierce urgency: Guaranteed Income
YSEQUITY's newly launched Guaranteed Income program was also featured as part of the King Day program with Angie Hsu, Leonard Kramer and Melody Kingsley representing the organization. The program exemplifies a social justice in initiative that fits within King's stated support of universal basic income — highlighted in a 1967 speech he delivered at Stanford University entitled, "The Other America."
"It seems to me that the civil rights movement must now begin to organize for the guaranteed annual income, begin to organize people all over our country and mobilize forces so that we can bring to the attention of our nation this need, and this is something which I believe will go a long, long way toward dealing with the Negro's economic problem and the economic problems with many other poor people confronting our nation," King said.
Last fall, YSEQUITY, a subsidiary of The Yellow Springs Community Foundation, launched a Guaranteed Income pilot in which 30 Yellow Springs low and moderate-income families, selected randomly by lottery, will receive $300 a month for 24-months. According to Kramer, YSEQUITY began as a response to racism and inequality following the 2020 murder of George Floyd, and also after recognizing as the COVID-19 pandemic continued, a number of individuals in the village needed greater financial support.
Hsu announced that in honor of Martin Luther King Day, the first checks went out to some of the program participants, timed to go out on the national holiday. "However, Monday is a federal holiday, and the banks are closed, so what that means is we're ahead of the game. Last Friday, YSEQUITY's first 15 participants received their first $300 monthly payment," she said.
YSEQUITY joins 100 other communities — mainly big cities in the United States who are piloting guaranteed income programs and is the only program in the nation that is operating in a village.
"This is an active, new bold step in fighting for racial economic and social injustice here in Yellow Springs," Hsu said.