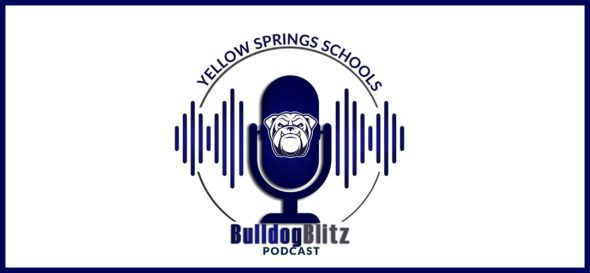 Schools debut 'Bulldog Blitz' podcast
If you don't have a child in Yellow Springs Schools but want to get a glimpse of what local students are working on in their classes, you'd usually have to wait for one of the biannual Exhibition Nights, where students present their project-based learning initiatives to the public.
The community can look forward to the second round of Exhibition Nights for this school year in May — but until then, if you want to know what the Bulldogs are up to, just put on a pair of headphones and tune into the district's new podcast, "Bulldog Blitz."
The podcast, which aims to feature students talking in-depth about project-based learning, or PBL, and other work, is spearheaded by Communications Director Corina Denny, who was hired by the district last April. Since then, Denny — who was previously employed by the Winton Woods City School District in Hamilton County — has undertaken a whirlwind of updates for the district's communications.

Those updates include a new website, created in tandem with PBL Foundations and Teacher Support Specialist Sarah Amin; the implementation of a new parent communication tool, ParentSquare; establishing connections with the wider community via revamped social media pages; and a total redesign of the district's branding and logos, including a new look for the Bulldogs mascot.
Denny told the News in a recent interview that she conceived of the podcast as another way not only to reach out to the wider community, but also to give students a voice about what engages them during the school year.
"It's really crucial that our community knows what we're doing and that they're well-informed," Denny said. "We can talk about [school initiatives] as adults, but when you hear directly from students, it means a lot more."
Denny said creating "Bulldog Blitz" for the community's young learners has meant that she's had to do some learning, too: In Winton Woods, where she served as community engagement coordinator, Denny had some multimedia experience, creating voiceovers for school videos and recording a podcast. However, she said, the larger school district gave her access to a community media center, where others produced the work she recorded. Now, she's taught herself to record, edit and publish a podcast on the fly.
"That's been a growth area for me," she said with a laugh. "It's been a learning curve."
The podcast's first episode, which was released in early February, features five Mills Lawn sixth-grade students — Logan, Veda, Lily, Natalia and Luke — and Sarah Amin talking about their PBL project.
According to the students, the project began when they noticed that the Little Food Pantry across the street from Mills Lawn was empty. This realization led to their project's driving question: "How do we address the issues of food insecurity in our community?"
In the podcast episode, the students talk about how their project — part of which involves creating a low-cost recipe with nutritious ingredients and stocking the pantry with those ingredients — integrates math, science, history, economics and sociology.
"What we like about [PBL] is [students] are learning content while they are learning to work with each other," Amin says during the episode. "It's a culture building piece, more than just, 'Here, we're learning content.'"
Denny told the News that she also views "Bulldog Blitz" as a way to help the community understand how PBL functions in the public schools from a student perspective.
"Sometimes, people think [PBL] is 'teach, teach, teach and then do a project' — but at the very beginning, the learning is led by the students," she said.
She added that the platform is also a new way to make sure information about upcoming events concerning the schools is disseminated to as wide an audience as possible.
Denny said the podcast itself is another way to educate students outside of their classroom work; to be guests of "Bulldog Blitz" is to formally present their ideas and goals before an unseen listening audience when they might otherwise have only discussed them with teachers and peers.
"I think it's a great experience for kids anytime you have them practice [public] speaking," she said.
Denny said she expects to record new episodes of "Bulldog Blitz" about once a month during the school year, with a focus on academic projects, but also on the schools' fine arts and athletics programs. In the next episode, she said, listeners can expect to hear about a project from high school students on the physics of racing.
Until then, the first episode of "Bulldog Blitz" is available online at rss.com/podcasts/bulldogblitz. Listeners can also subscribe to the podcast through the following apps: Apple Podcasts, Spotify, Google Podcasts, Amazon Music, Pandora, Samsung, Listen Notes, iHeartRadio, Stitcher and Podcast Index.