'Hidden in Plain Site' exhibition opens at former Baptist church
A painting, created by Bronx-based artist Rafaela Santos — with a simple color palette of reds, blues, whites and blacks — draws the eyes immediately when walking into the newly completed architecture studio, Crome Yellow Springs, formerly the church home of the predominately African American First Baptist Church.
An enslaved Black woman is the lone subject, holding her pregnant belly with one hand, and reaching out with her other toward something that the viewer can't see — freedom, perhaps?
The painting, "Her Hope," is part of Santos' exhibition, "Hidden in Plain Site," currently on display in the studio. The show is "an ode" — to hidden treasures long buried within the structure of the former church, originally called the Anti-slavery Baptist church — including trusses revealed above a drop ceiling, probably installed as part of an earlier renovation effort. The title also speaks to people seeking better lives after fleeing slavery along the underground railroad that ran through this area.

If the studio were still a church, the six-foot-by-nine-foot work, powerful in size and theme, would hang behind the church choir while members sang praises each Sunday morning. The building, redesigned as a creative space for architects, also includes designated exhibition space for visual artists. Santos is the first artist to show work in the space.
Santos, who is Afro-Latina of Puerto Rican heritage, became aware of Yellow Springs after a friend moved here and suggested Santos exhibit her work in town.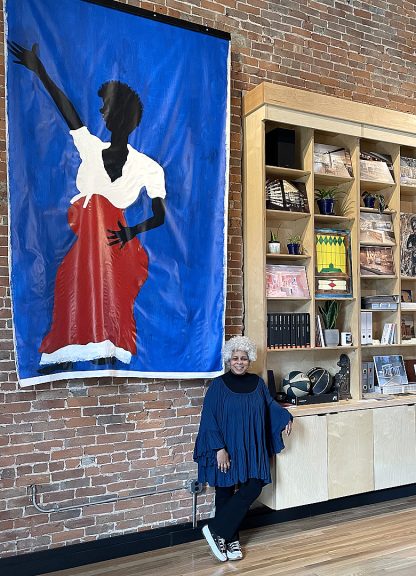 "We came to visit and loved the town. One thing led to another, and my friend said, 'Oh, you should show at The Winds.' That was how the first exhibit [on display at the Winds earlier this year] started," she said.
Santos said she met architect Max Crome while hanging out in Yellow Springs. A friendly conversation resulted in her showing Crome her Instagram page.
"Max saw my work at the Winds, and he loved it," she said.
Crome then asked Santos if she'd be interested in showing her art at Crome Yellow Springs when it opened. He and his business partner, Steve Pitchel, were in the process of renovations at the time.
"I said, 'sure.' I didn't know the history [of the space] or anything. I remember, I came with my husband, and it was the beginning of construction, and everything was a mess," Santos said.
According to Santos, she drew inspiration from knowing that her work would be exhibited at the former site of a church that was originally called the Antislavery Baptist Church.
"I remember standing in the doorway, and I can tell you I had that same feeling when I reached the Inkwell Beach on Martha's Vineyard. I felt very grounded spiritually. And I remember saying, 'Oh boy.' And immediately I talked to [Crome] about these two walls where I have two [paintings of] slaves running toward something," she said.
On one of the walls hangs the large portrait of the enslaved Black pregnant woman, one of three depicted in the show.
"The church being the focal point, reaching the sanctuary of the church. It was my thing, they have to be big, and because some of my work already was leaning towards that, I was able to pick some of the works that were at the Winds and complement that. I knew exactly the pieces," she said.
According to Santos, identity is a strong component of her work.
"Being Black, Latina, Afro-Latina is something that really shows up in every facet of my work," she said. "I kind of shied away from it for a little bit, but during COVID, it just became something much more intense for me with research and also doing ancestry [DNA], where I found out that nearly 70% of my ethnicity is from African countries."
Santos said learning more about her ancestry also helped her discover why the Black motif in her art was something she gravitated toward as part of her subject matter.
"I can do different styles, and I work with different media. But the abstract and the Black figures would always show up in my work, and I never understood why. When I did my ancestry, I kind of understood that it was much more of a spiritual pulling in terms of my art and my subject matter. That connection was through my African roots." Santos said.
To prepare for the exhibit at the architecture studio, Santos did a lot of research related to the antislavery movement.
"In order to honor the work, before I started creating, I started my research from the John Parker House, to the Quaker John Rankin, to the routes of the Underground Railroad," she said.
The research also informed the creation of an "Floating Masks," an installation involving multiple panels of matte black masks she painted and hung in a sequestered room at the studio. The installation includes an audio component and is intended to be a multi-sensory experience for the audience.
"The installation of the masks evolved because I actually wanted just the breath sounds, the breath of people just breathing. But it evolved. And I remember saying, 'I'm going to do this whole audio based on the 'Follow the Drinking Gourd' song," Santos said.
"Follow the Drinking Gourd" was written by folk musician Richie Havens. The drinking gourd is another name for the Big Dipper constellation, which enslaved people who escaped captivity are said to have followed North to freedom.
Santos said she was profoundly affected by the experience of creating the installation and the exhibition, into which she put in an exhausting amount of time, preparing for the opening.
"I remember when I was painting the masks— it was almost as though when you cleanse a person who's dying. I was so emotional. And I did this at night when everybody was asleep, my husband was asleep and I'm there — and I remember painting that, and feeling such a connection," she said.
Santos began drawing and painting around 2010 and exhibited her work for the first time in 2015. She has not had formal art training and did not go to art school.
"My family was, to say the least, a little bit surprised because I've never done anything like that," she said. Santos is married to her teenage sweetheart and is the mother of grown children, two daughters and a son. She is also a grandmother.
Santos, who teaches meditation classes, now couples meditation to her burgeoning art career.
"I used to do urban cultural conferences where I presented a lot of work. Beautiful. You know, in sociology, urban sociology and urban legal studies was what I studied in college," Santos said.
As she completed research and created work for the exhibit, she shared her knowledge with her students, some of them seniors in their 80s.
"I have students that are from different diasporas; specifically, I deal with a lot of Latinos and African Americans. They say, 'wow, I'm this age, and I didn't know that.' I'm always educating myself and my students and sharing with them. I also did sort of a little [virtual] tour with them of the exhibit before it opened," Santos said.
According to Santos, she developed debilitating vertigo soon after she started making art. She was also diagnosed with glaucoma and nerve damage about five years ago.
"I went back to my doctor, and I said, 'You know, it's weird, but I'm beginning to draw something I've never done, colors are different. And he says, 'you know, [famous] artists had tinnitus and ear problems and you're in good company.'
According to Santos, one of the artists her doctor mentioned as having debilitating vertigo was van Gogh.
Santos believes the exhibit contains some of her most profound work to date.
"I worked for months, researched for months, and the fact is, I wanted to honor the space and the trust I was given by Steve and Max to do right by this space. And I think it's some of my best work," Santos said.
The exhibition will be on view for several months. To see the exhibition and newly renovated Crome YS, email steve@cromeYS.com to schedule an appointment.