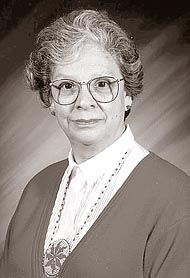 In memory.
Maria Donat, 89, passed away peacefully at the Friends Care Community on April 26, 2023. Maria was born in Valparaiso, Chile, on July 10, 1933, to Carlos and Rosa Cárdenas. Her journey to the United States started with employment at the Chilean-North American Cultural Institute in Valparaiso, Chile. There she met some of her lifelong friends, and in 1955 had the opportunity to participate in an exchange program that took her to New York City. It was in NYC that she began her love of art, art history and good food. She spent her free time visiting the great NYC museums and galleries and saved her resources to treat herself to her favorite cheese Danish, paellas and Spanish salt cod dishes.
She married in New York and moved to Kenitra, Morocco, where her first child was born. From Morocco she lived in Madrid, Haiti and Puerto Rico, enjoying museums, art and cultures. In 1963, Maria moved back to New York, a city she loved, and worked at the Columbia Law Library before moving to Ohio in 1967. After a year in a Dayton suburb, only surviving by visiting the Dayton Art Museum, she moved to Yellow Springs, Ohio.
In Yellow Springs she welcomed her two sons to the world. Maria loved the "Village." She loved the small friendly shops, singing in the choir, the farmers market, gardening in her yard and her friends. She enjoyed a good conversation, was opinionated, and loved to talk — a lot!
Following a divorce, she completed a degree in education at Wright State University. Her first position was student teaching Spanish at Yellow Springs High School, followed by teaching Spanish and French at the Miami Valley School in Dayton; she retired from the Cedarville High School. Throughout her years of teaching, and in retirement, she continued to audit art and Italian classes at Wright State University and to travel to museums and galleries, locally and around the world. Her knowledge of art history provided an instructive canvas for teaching, and when possible, she cherished taking her students to a local art museum for "un lección de arte."
Her children will celebrate her through memories of dozens of avocado plants growing in every window of the house, of planting live Christmas trees in the yard, of eating lovely food, and of her creative idioms. Maria is survived by her children, Maria Cardenas-Anson (Thomas Anson), Robert Shawn Donat (Roger Smith) and Nathaniel Donat (Elisabeth Rothschild); nephew, Thomas Holzman; grandchildren, Nicoletta and Camille Donat-Rothschild and Eric Johnson (Megan); and great-grandchildren, Quinby and Freya Johnson.
At Maria's request there will not be a memorial service. If one would like to honor her memory, please support a local artist by purchasing a piece of their work.