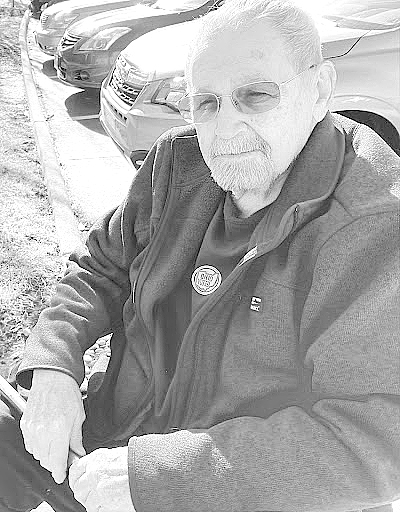 Jack Lee Nickell, beloved father of Desiree Nickell (Yellow Springs), Jacqueline Nickell (Los Angeles, California), and David Nickell (St. Petersburg, Florida), passed away June 18, 2023, from complications following heart surgery. He was 89.
Jack lived in Yellow Springs, Ohio, the last 13 years of his life. He was an avid reader, a golf enthusiast, a Vietnam vet, a U.S. Air Force retiree and a proud alumnus of the Ohio Soldiers and Sailors Orphans Home in Xenia, Ohio.
Jack was born in Middletown, Ohio, on Feb. 25, 1934, to Andrew J. Nickell and Hattie Nickell (Childers). He was the second youngest of nine siblings, including Hershel, Carl, Jean, Pauline, Wilbur Raymond (Bill), Maxine, Andrew Jr. (AJ), and Richard (Dick). The family had moved from Kentucky to Middletown in 1924 in search of work and a better life. At first, the family did well. Jack's dad got a job at AK Steel and his mom washed and ironed for a lady in town. They bought a house on Woodlawn Avenue and began their pursuit of the American dream.
Tragedy struck, however, and this dream was short-lived. The house on Woodlawn burned down, there was no insurance and the family was forced to move across town to a rental house on Iglehart Street. The house on Iglehart Street had three rooms: a kitchen, living room and bedroom. The six youngest kids slept in a twin bed in the living room — three at the top and three at the bottom. There was an outhouse in the backyard and one sink in the kitchen, which was used to wash both dishes and kids. Food was scarce. There was a pawpaw tree in the backyard and Jack remembered eating pawpaws just to keep his belly full. Until the day he died, Jack hated the smell of pawpaws — "Like rotten bananas," he said — and nothing we could say about the fruit could convince him otherwise.
According to Jack, from 1939 to 1941, he and all of his siblings had to fend for themselves. His mother was hospitalized at the Dayton Stillwater Sanatorium with tuberculosis and his father was in and out of the VA Hospital suffering from the effects of mustard gas exposure and alcoholism. He and his brother AJ ran the streets of Middletown, foraging in grocery store dumpsters for food, stealing milk and cereal samples from porches and in general running wild and doing whatever they wanted.
This lifestyle, fortunately, was not to last. In 1941, social services and the juvenile authorities rounded up all the kids and sent the six youngest to the Ohio Soldiers and Sailors Orphanage, or OSSO, in Xenia. Jack's dad had been a veteran of World War I; he fought the Germans in France and Belgium as a member of the 136th Machine Gun Battalion. This made all of the kids eligible for admission to the OSSO, even though both parents were still alive.
Jack lived at the OSSO from 1941 to 1951, from the age of 7 to 17. He loved it there. He started in Peter Pan, a dormitory for the younger kids, with child-sized furniture, plenty of toys and a wading pool out back. He had a bed all to himself, a toothbrush and three meals a day. His favorite housemother was Dorothy Hilty, who later became a child psychologist at the Home. He considered her his surrogate mother and he kept in touch with her until the day she died.
As an older child, Jack played for the Home football team. He was a state champion on both the rifle team and track team, and he played trombone in the school band. In 1951, at the age of 17, he left the Home and joined the Air Force. Why he left the Home before graduating from high school — he later earned his GED — was never clear. Jack said he couldn't take "the whistle" anymore — the loud, industrial sound that controlled every aspect of his life at the Home, from waking up in the morning to going to bed at night.
Life was a whirlwind after that. As a new Air Force recruit, Jack trained in Texas and then was stationed in Wiesbaden, Germany, where he met and eventually married Ernestina (Tina) Burda, a World War II refugee from Pilsen, Czechoslovakia, who had relocated to Passau, Germany, following the war. Together, Jack and Tina had three children: Desiree, Jacqueline, and David. Jack also adopted Edward Nickell, Tina's son from a previous relationship. From 1955 until Jack's retirement in 1974, the family moved every two-and-a-half years. Mostly, they lived in Germany (Wiesbaden, Trier, Spangdahlem and Baden Sollingen), but they also lived in Big Spring, Texas; Cheyenne, Wyoming; Satellite Beach, Florida; and, finally, in Naples, Italy. In 1968, at the age of 34, Jack served a tour of duty in Tan Son Nhut, Vietnam. In Vietnam, he provided administrative support to the Directorate of Security Police, and was eventually awarded a Bronze Star Medal for his service. In 1974, he retired from the military and settled in Dayton, Ohio. In 1983, after 28 years of marriage, Jack and Tina divorced.
After retirement, Jack continued to work until well into his 70s. He was a medical clerk at the VA Hospitals in both Dayton and St. Petersburg, Florida. He also served as chief administrative assistant for the director of St. Vincent de Paul in Dayton. These are just a few of the many jobs he held; Jack wasn't happy unless he was working.
In 1984, Jack married Elizabeth E. Black (Lee), of Flemingsburg, Kentucky. At first, Jack and Elizabeth lived in Dayton, but they eventually moved to Flemingsburg. In Flemingsburg, Jack reconnected with his past — his family originally hailed from Hazel Green, Kentucky. He devoured Liz's southern cooking, joined the men of the family as they harvested and cured tobacco, and spent many a summer night up on Pea Ridge, the home of Liz's sister Mary and her husband Kenneth Peck, drinking Bud Lite and talking and clowning until the wee hours of the morning.
In 2010, Jack's beloved wife Elizabeth passed away from lung cancer and Jack relocated to Yellow Springs, Ohio, where he remained until his death.
Jack was preceded in death by his parents; his first wife, Ernestina, his second wife, Elizabeth; his eight siblings; and his step-son, Edward. He is survived by his daughters and their spouses, Desiree Nickell (Ellis Jacobs), and Jacqueline Nickell (Mark Apodaca); his son, David Nickell; his grandchildren, Sam Jacobs, Nicholas Apodaca, Gabrielle Apodaca, Jason Nickell and Donovan Nickell; great-grandchildren, Brooke and Mason Nickell; and a host of nieces and nephews.
A celebration of Jack's life will take place on Saturday, July 22, 2–5 p.m., at the Unitarian Universalist Church just outside of Yellow Springs at 2884 U.S. 68. Burial of cremated remains will take place at a later date at the Fleming County Cemetery in Flemingsburg, Kentucky.
In lieu of flowers, the family recommends contributions be made to the Ohio Soldiers and Sailors Orphans Home, AXP Museum Fund, 650 Elliot Drive, Xenia, Ohio 45385.
Finally, the family wishes to thank the wonderful nurses at Soin Medical Center and Grandview Hospital for Jack's exceptional care the last 10 days of his life, especially Michele and Angie at Soin, and Alecia and Sarah at Grandview. We would also like to thank Rebbecca Sule of Jackson Lytle & Lewis Funeral Home, who helped with final arrangements. Online condolences may be expressed to the family by going online to jacksonlytle.com.