Experimental sounds coming to the Foundry Theater
The Foundry Theater at Antioch College continues its inaugural season of programming Thursday, Nov. 16. The performance will feature duo Zoh Amba and Chris Corsano and local resident and musician Evan Miller in an evening of music that defies traditional musical boundaries and — due to the musicians' improvisational styles — precludes expectation.
The event begins at 7 p.m.
Miller, familiar to Miami Valley residents as the host of  well-known music program "Excursions" on WYSO, will open the evening of music with a solo performance. A percussionist with a background in both traditional and experimental music, Miller described his solo drone sound as minimalist, incorporating unorthodox uses of percussion elements.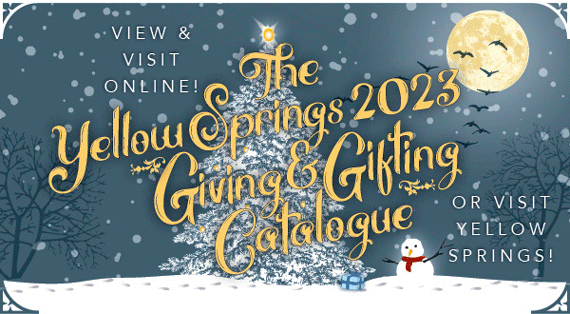 "It's a little bit different every time," Miller told the News this week. "Sometimes I use keyboard percussion — I have this old glockenspiel that I'll bring into my music sometimes. Other times it's percussion as a textural thing."
Miller said his approach to performance includes finding ways to play with resonance and repetition — rubbing ceramic tiles on the head of a drum, for example, or using a cello bow to find unexpected tones, overlaid on a foundation of sound from cassette tape loops.
"You can bow basically anything to make a sound, but metals in particular are really resonant — and you can get a lot of cool sounds out of those," he said. "Something about repetition — about doing something for a long time — just feels good."
Miller added that the Foundry show will be his first solo performance in the village — though he's played in the past at Porchfest with bandmate Andrew Seivert as Neutrals and has performed solo on tour outside of town.
Miller has himself helped introduce Miami Valley listeners to experimental music through another program he's hosted since 2018 — his initial hosting gig with WYSO before taking over "Excursions" in 2021 — "The Outside." That program, he said, is representative of the kinds of music he, Amba and Corsano will perform for local audiences at the Foundry.
"It's nice to know I've helped make new fans in the area who might not have otherwise ever been exposed to this stuff," he said.
Miller said he's a fan of the musicians he'll be sharing a stage with at the Foundry. He first saw drummer Corsano perform in Ithaca, New York, by chance — Corsano was filling in last-minute for one of Miller's own musical influences, percussionist and improviser Tim Feeney. He described Corsano's technique on the drum kit as "very agile."
"As a drummer myself, I have no idea how he does it," Miller said.
As a drummer, composer and improviser, Corsano has spent his career steeped in collaboration. An artist from New Jersey performing since the '90s, he's lent his skill to dozens of albums, working with artists who encompass a range of experimental sounds. His 2000 collaboration with saxophonist Paul Flaherty produced the album "The Hated Music," a frenetic back-and-forth that exemplifies free jazz — an improvisational approach that embraces avant-garde finesse.
As Corsano told the News via email this week — at the time of writing, he was in the midst of performing nine days of shows in Mexico with improvisational musician Gibrán Andrade, among others — he and Amba met in 2022 and began playing free jazz together that fall.
"I'd say the musical connection was instantaneous," Corsano said. "You want to find people to improvise with who are fearless, and who will bring that out of you as well."
Amba, a 23-year-old Tennessee-born composer, saxophonist and flutist, burst onto the free jazz scene with two albums in 2022, "O, Sun," and "Bhakti." The albums oscillate between capacious, lyrical melodies and dynamic eruptions of sound and speed.
Foundry Theater Managing Director Chris Westhoff said one of the reasons the theater booked Amba is because her presence in the world of free jazz — and her command of that world — is something of an anomaly.
"The fact that she is a 23-year-old person making music in a realm that is dominated by old dudes is very cool," Westhoff said.
Because Amba and Corsano improvise in live performance, Corsano said it's "tough to predict" exactly what energy Yellow Springs audiences can expect at the Foundry Theater.
"But the smart bet is on a mix of extremes — from high-intensity playing to delicate passages," Corsano said. "Uncompromising, but also sensitive."
He added: "I like music that has nothing middle-of-the-road about it."
Miller said that, from his view, Amba and Corsano are "two of the best people making this music right now."
"So the fact that they're coming to play in Yellow Springs is really quite a treat," he said.
Playing at the Foundry will be something of a treat for Amba and Corsano as well, Corsano said, due in part to Antioch College's own connection to the legacy of free jazz.
From 1968 to 1973, free jazz pioneer pianist Cecil Taylor — a name familiar to any practitioner of the genre — taught at Antioch College. To this day, many free jazz musicians trace their musical lineage to the influence of the late Taylor, who died in 2018 at 87.
"I think we are all playing in the pathways that Taylor made possible," Corsano said.
Miller acknowledged that free jazz and other experimental musical avenues can sometimes be acquired tastes, but encouraged those who are unfamiliar and curious to come out to the Foundry with "open ears," ready to receive an ephemeral performance that, by its improvisational nature, will be totally unique.
"The context of the music is really important," he said.  "It's an emotional thing — the pushing of boundaries and the free expression of it."
Westhoff agreed, saying potential audiences "should be up for an adventure."
"It might be arresting or challenging, but I think there's great payoff in a challenge," he said. "It just might be a beautiful experience that otherwise would not be had."
Tickets for the show are $30 for general admission and $5 for students, from grade school through college. The latter price represents a recent change from previous shows, which Westhoff said the Foundry adjusted after feedback from Antioch College students, with the aim of allowing more students to attend Foundry programs.
For more information, or to purchase tickets, go to bit.ly/AmbaCorsanoFoundry.