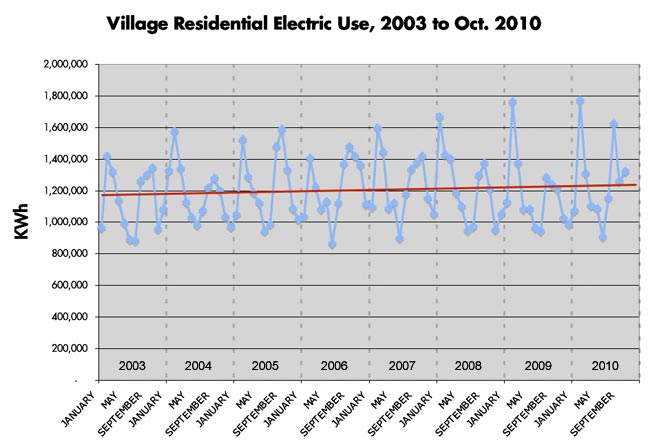 UPDATED – YS monthly energy consumption
The monthly electricity use of the village's 1,700 residences has slightly increased from 2003, according to figures from the Village utility department.
While the average monthly consumption is around 1.2 megawatt hours, it fluctuates greatly throughout the year, peaking during the winter heating season (when villagers use more lighting and some use electric baseboard heaters). A smaller peak occurs during the summer cooling season, when air conditioners are running.
Clearly, weather is a factor in a households' monthly electricity use, and upcoming analyses from the News will include weather-independent data. A recent report completed by the University of Dayton for the Village did factor in weather and concluded that while baseload electricity use in the village increased from 2003 to 2008, weather-dependent energy use fell slightly due to decreased air conditioning use. But according to their figures, Yellow Springs residential electricity use still remains 20 percent higher than the average Midwest home.
In February 2010, the village may used more electricity than anytime in the past eight years. One reason may be that the average temperature was more than five degrees lower than normal. This August's electricity use was higher than any August since 2003, with the monthly average temperature more than three degrees warmer than normal.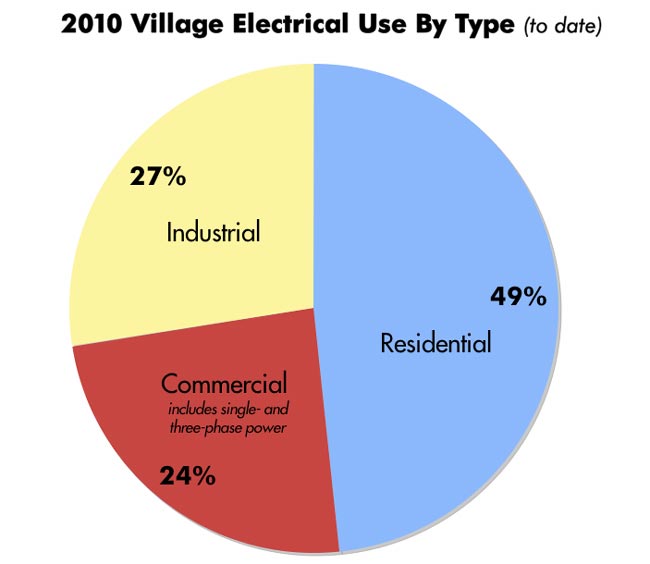 Residential electricity use accounts for about 49 percent of total use, with commercial buildings using 24 percent and industrial users consuming 27 percent. Upcoming analyses will look at use in these sectors.