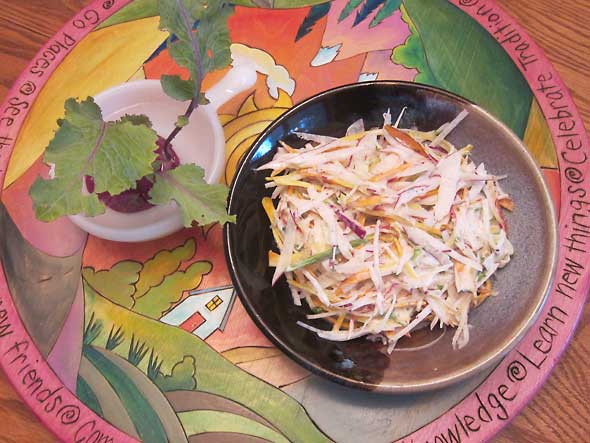 BLOG-Slinging Slaw, Kohlrabi Style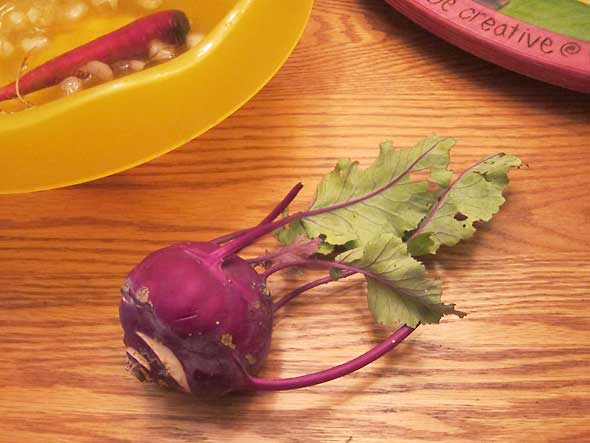 Kohlrabi is an odd fruit… or rather cabbage. In the garden, it resembles an alien spacecraft hovering above the earth, probes deployed. I first took notice when my sister Kate posted pictures of kohlrabi from her prosperous garden. The quirky vegetable fits her pioneering style to a T….as playful and sincere as a pumpkin patch.
Bred from wild cabbage, kohlrabi resembles a huge radish when harvested. Mostly, I use it like radish. It is often featured raw in water salads or cooked in a favorite steamed pork dish. It honestly never occurred to me to use it like cabbage until just this week when I came across a recipe for kohlrabi slaw in the food blog Flavour. Slaw is a wonderful summer salad—crunchy and cool—and Elaina's recipe looked particularly refreshing.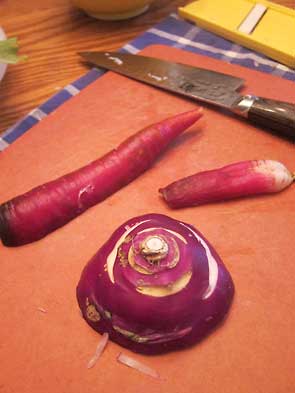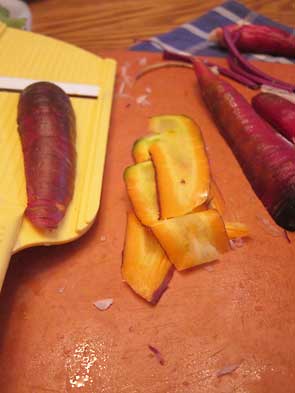 Cabbage is easy to shred for slaw. In comparison, prepping the kohlrabi presented a bit of a challenge. The progress of my julienne tool proved slow on the kohlrabi's dense flesh. It was faster to slice the bulb in thin circles and then into the julienne strips. First, I topped the bulb saving the leaves to grow like I have beet tops in the past. The bottom half of the bulb I sliced thin with a ceramic blade and then cut the strips with a chef knife. I did the same two steps with a radish and a carrot, then tossed the three vegetables together. I covered the shreds with ice water to crisp them up while I made the dressing.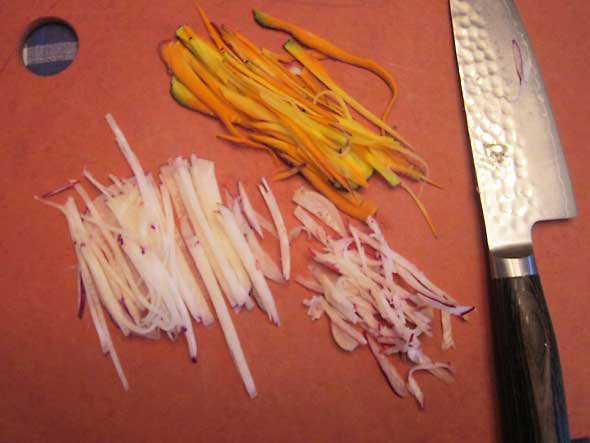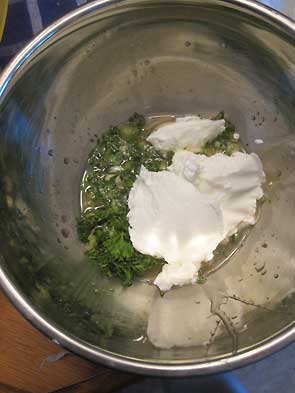 The kohlrabi is part of our family share from Smaller Footprint Farm. This is our second year participating in Smaller Footprint's Community Supported Agriculture shares. Our portion also provided the parsley and green onion for the slaw's dressing. I like my slaw colorful so the carrot proved key here. I picked a red carrot from Flying Mouse Farms which, all by itself, ranges from purple to red to orange to bright yellow. Folded into the slaw, the vegetables formed a cool salad that would grace many a dish such as pork burgers or fish tacos. Today, the salad will be accompanying us to a birthday party where it will pair nicely with the host's fried chicken.
I am very happy for this recipe. Kohlrabi keeps very well and is more compact than cabbage. One bulb is enough to make slaw for a four-person family but not too much. Truthfully, I find cabbage a little overwhelming. Given kohlrabi's storage advantages and handy portion size, it's destined to become my go-to ingredient for home made slaw. And I love slaw…with all sincerity.