BLOG-A Gathering In Miniature
Would you, could you in a frame? A tiny frame? All of two inches by three inches? That is the challenge posed by gallery owner Sherryl Kostic. Every two years at Would You Could You In A Frame—the fine art gallery on 113 Corry Street—Sherryl gives area artists the opportunity to present signature works of art in miniature. This year's exhibit will run 14 June through 6 July with an opening reception on Friday 14 June 6-9pm.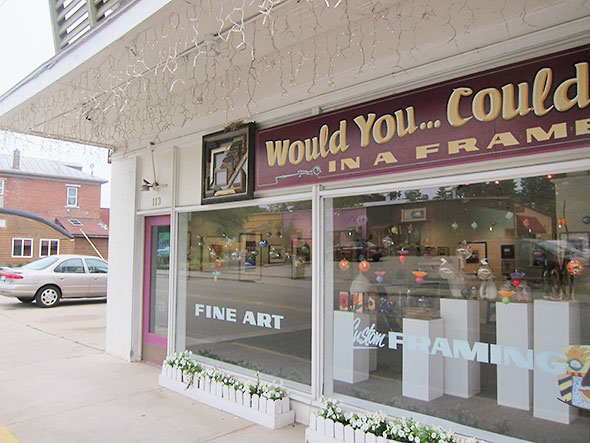 A wise person once told me that a true artist transcends tight constraints. In the 2013 submissions, I see no holding back but great spirit and expression. Visitors to the Yellow Spring Art Stroll on June 14 will find the gallery's exhibit a virtuosic crescendo of area talent.
A week ago, Sherryl and I poured over the pieces as she prepared them for framing. The wide range of subjects, moods, and media is impressive as well as the exceptional standard met in execution. We chuckled over the various forms of delivery. Submissions arrived crated in boxes of wood and cardboard, wrapped in ziplock bags, or sandwiched into lightly padded envelopes. One spare commercial envelope offered a window and tantalizing glimpse of a masterpiece by Pam Geisel entitled "Home Tweet Home".
Several works rejoiced in the seasonal pleasures of spring summoning scenes like those you might find along the bike path, around the neighborhood, or deep within the glen. Rusty Harden nestles us into the habitat of a Glen Helen native with a watercolor of the three petaled trillium at its peak. Jenny Haack evokes a spring woods suggesting both the damage and restoration from a recent storm. Paula Womacks takes me to higher ground as we prepare to cross the glen's bridge and explore its wooly landscape.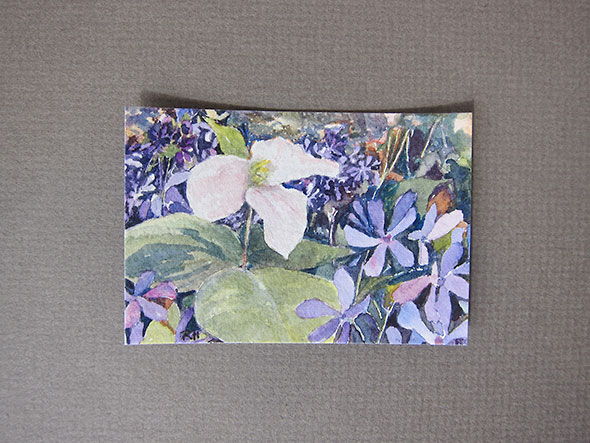 Carol Colbertson introduces me to her quirky brood of chickens—a breed destined to populate many a neighbor's coop. Next, I join Macy Reynolds at the Women's Park along the Little Miami bike trail and we marvel at the coneflower blossoms deliciously jeweled in pink and gold. The intimate texture of embroidery speaks to me again as Corrine Bayraktaroglu winks at the moody Edgar Allen Poe with a clear eyed raven who "Tweet'eth" nevermore. Betty Kelley charms me into looking closer in order to discover the eccentric textures and colors of two slow growing, star-like lichen.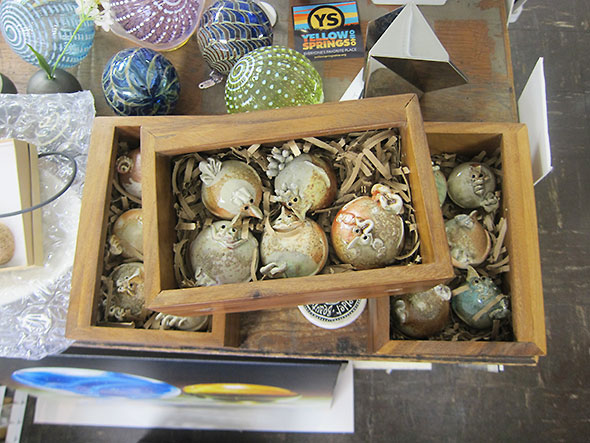 The miniatures suggest an easy intimacy. It's as if Kim Korkan has invited me for a visit and a story in her ink and watercolor miniatures. As I sit and listen, I admire her vase of fresh peonies—wondering if the one last tight bud will bloom—as I ruffle the ears of the warm puppy sitting at my feet.
The details are splendid in texture and tones. The moods evoke deep residing memory and flashing humor. One must resist touching the spiky quills on the headdress of a mask by Lisa Goldburg or tracing the graceful lines of Enice Bronkar's conch shell or following the witty tune piped by Parviz Dadras's Pan.
One distinct joy in seeing the pieces at this near final stage is witnessing their natural unedited edges. Before the works are framed, we see a bit into the creative process as preserved in the exposed outer margins of the art.
In the outside margins of one set of miniatures, Tara Anderson tests colors and prepares her stylus so that the paper takes her applications as intended. Her magnificent series portrays the four seasons in the combined media of ink drawing and gouache painting. Shades of opaque watercolor dot the outer margins giving us an appreciation of the craft and, in particular, Anderson's skill at mixing pigments and the precision she commands.
A week away from the opening, the pieces are now framed and stacked for hanging. Soon Sherryl will begin the transition of the gallery for the exhibition. The show is a wonderful opportunity to experience the fascinating talents that our community sustains and—in the undeniable accessibility of the miniature—to take a slice home for one's very own.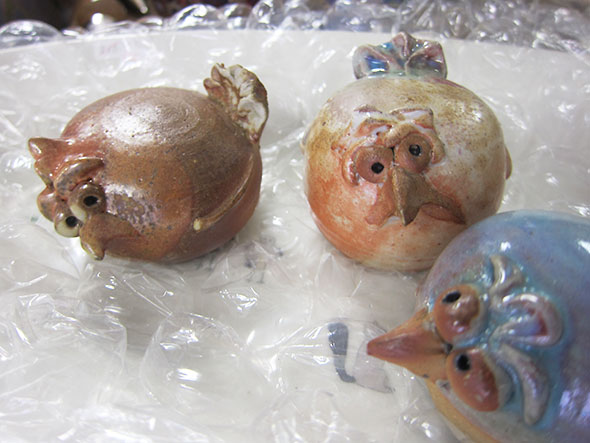 So this coming Friday, please join Sherryl and her assembled contributors at In A Frame for an evening of fellowship. In this gathering, many bright lights will shine to laugh, to sigh, to sing…and to humbly rejoice with us in our plenty.