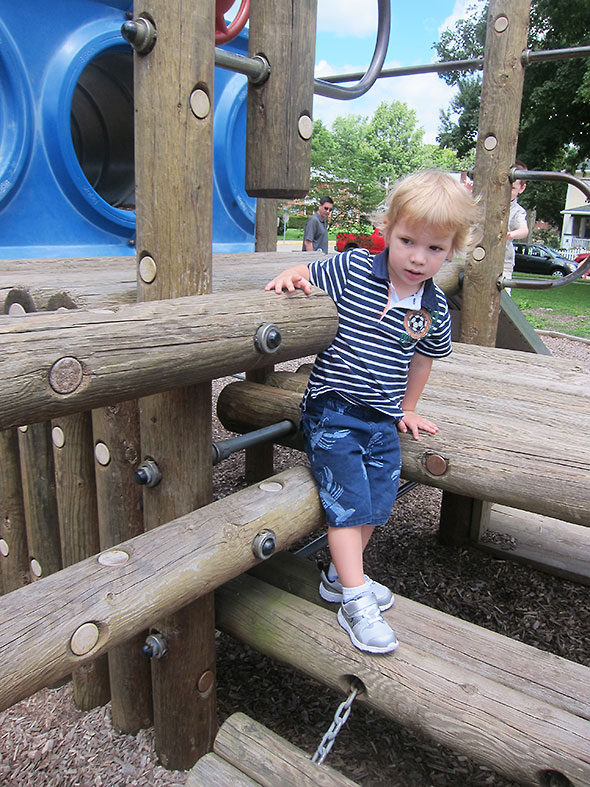 Our prayers were answered by a sunny sweet afternoon. We changed from our Sunday best into play clothes and got hearty sustenance in the form of takeout from Mr. Nigam's food truck. We then settled into a long afternoon of play.
We'd come to test our metal against the BigToys playset at the Mills Lawn Elementary School. One last time we ventured to conquer the beast, to beat out its timber and learn its many secrets.
We stayed for hours. Known as simply "The Wee" in our family, our kids have been sailing down and through the Big Toy's slides, poles, loops, and barrels ever since they were old enough to navigate the log platforms. When they were still infants, I could hover close spotting while they'd make their way across, element by element, intimidated but intrigued by the genuine challenge before them.
The Big Toy itself stood solid for decades. Then, suddenly, in a wild storm on 1 July 2012, a maple tree crushed full one half of the play structure. Tall and straight, the giant tree had sparse roots on its north side, and these failed following an intense Friday soaking and finally in the strong winds of that Sunday storm. The massive weight of the truck accordioned a spiral slide, crunched a windowed tunnel and connecting walkway, and splintered apart a set of overhead monkey bars.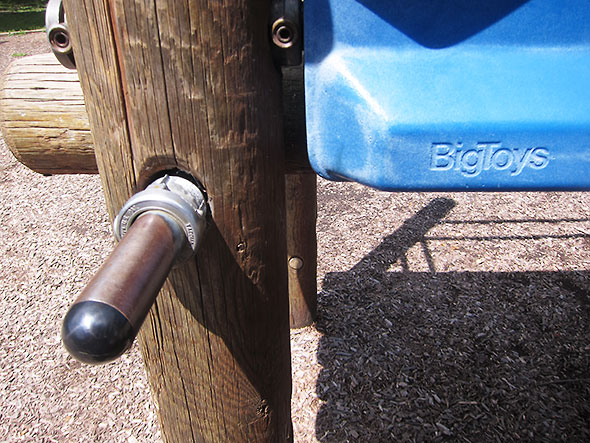 Finding much of the Big Toy too damaged to repair safely, the school paired down the surviving structure to a dozen components: two slides, a suspended tunnel, two decks with ship captain wheels, a wooden bridge, a metal ladder, a fireman pole, a tire swing, and traveling rings. Broken, smaller, but still good, it served out another year like an improvised tree house suspended above the flood.
I love how the Big Toy was put together. The industrial-strength bolts and anchors proudly bore witness to how the beast held itself together. Each large facet displayed the BigToys name in an unrepentant embrace of heavy equipment.
One of my favorite things about the Big Toy is it didn't play favorites. Big kids and small kids could range upon it in full spirit. A 40+ year old woman, I boarded it myself and rarely felt pinched or out of place. The tree took out its higher, more challenging elements…all the ones I coached my children through ("Put a foot there and there. Now, reach here and pull!")…but, in that leveling, placed the Big Toys' playmates on near equal footing.
The open decks and railings allowed children to sit shoulder to shoulder. Many would, though someone would still find an individual perch from which to survey.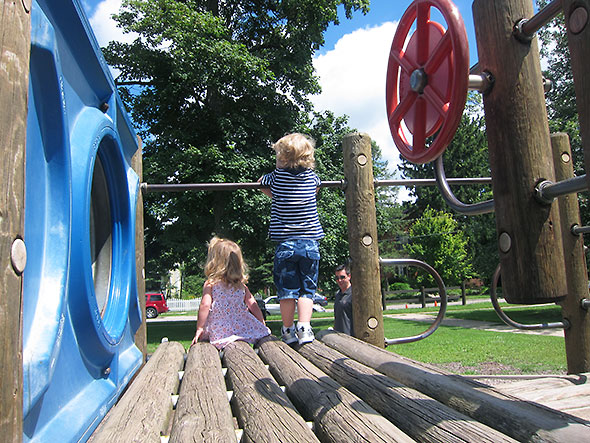 As we played on that Sunday afternoon, the neighborhood families kept coming and coming. Everyone's children lingered on their favorite elements. Some flipped themselves upside down on the pull up bars and studied the bright blue sky above them. Others wrapped their bodies around great vertical-standing logs and stretched out to the traveling rings for one more swinging trip around the vaulted maze. The ones who knew consoled each other and blessed the day for supplying good weather and kind, supportive friends.
One of the Big Toy's builders came to visit with his extended family—three generations represented in all. He told his son how he helped put the Big Toy together two decades ago. It took him and 3-4 other men two weeks to stand it up.
He had come to mourn. We had too. We came to honor the Big Toy and our shared memories. Our affection for it runs deep. So many days before, when the time came to leave, the children and I would turn back—ever reluctant to part—and thank the playground blowing it big noisy, blissed-out kisses.
When we finally packed up on Sunday, this time I had a person to thank. To him and his coworkers of twenty years ago, we blow grateful kisses and thank them sincerely for all the marvelous, marvelous fun.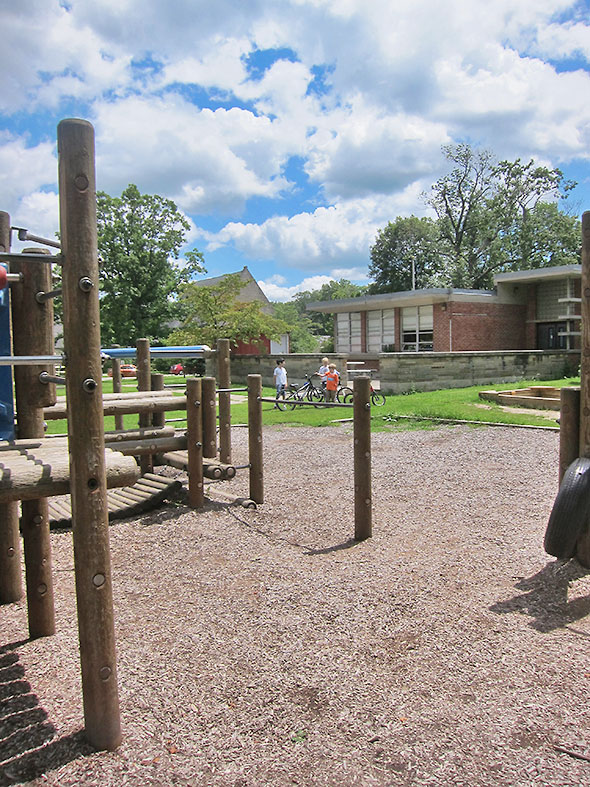 On Monday, the Big Toy surrendered its spot and the ground was prepared for transformation. By Friday, the school's new playground finished its 5th day of a 8-10 day installation and, captivated by its well thought through layout, we are all itching to try it out.
The new playset is almost as different from the Big Toy as the sets I played on as a child. Four decades ago, our big toys looked—as a friend put it yesterday—suspiciously like plumbing. The Big Toy could almost be accused of the same, its complex set of pipes cloaked in wood.
No longer set like a low level tree house, the new playground springs from the earth as if a great ranging plant itself. Its cascading slides and cliffs might even stun newcomers…just for a moment…before they jump to it in delight. Our children will be there for its inaugural run and long remember themselves as its first noble pioneers. It is the winged starship of their own magical era transporting them to extraordinary adventure.