BLOG-Happiness is a Full Shoebox
When preparing for the Valentine's Day card exchanges at my children's schools, I was mindful of my Grandmother Helaine. Her outlook was ever whimsical…bordering on irreverent. She had a special talent in making intriguing packages that seemed to bounce in your hand with their own excitement.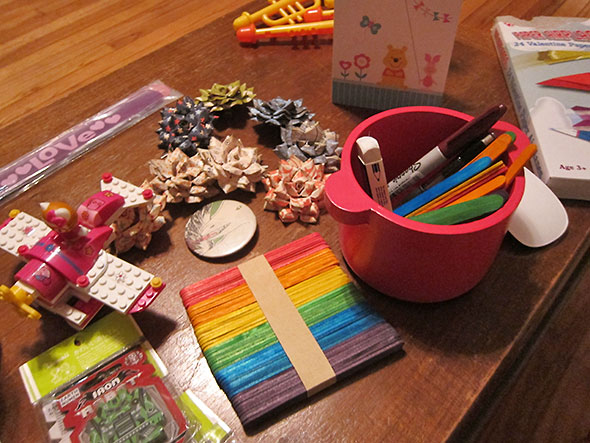 When I was young, we'd collude together sewing and crafting at her house. Guided by her giddy genius through a zigzagging array of colors and textures, I'd follow the lead of my spritely master. Projecting an illusion of airy effortlessness, she inspired me to learn and do with happy occupation. When I was older, I loved nothing better than getting an embellished card from her in the mail. My inventive entrepreneurial sisters manifest her most endearing qualities, the same qualities that I find in abundance in Sarah Strong of Strong Heart Press & Studio.
Last weekend I participated in a Ladies's Night Out hosted at the Strong Heart studio, and the evening brought me back to my grandmother's side as surely as if I had stepped into a time machine. We created gilded postcards—a golden ticket of a gift for our art buddy that evening—intended to deliver to them a precious but missed opportunity from the distant past. As I worked on my offering, I could feel Grandmother Helaine sitting on my shoulder like a guiding angel her excitement in our task tangible and present.
Later this week, as I thought of my children's Valentine cards, I wondered how the children and I could create gifts that would crack smiles and lift spirits. Wednesday, I followed my nose about town gathering inexpensive but indulgently clever items from Unfinished Creations, Pangaea, and Urban Handmade. For a bit of sparkle, I also took a quick spin through the party store on Fairfield Pike. Then Wednesday night, the children and I poured the ingredients out on the living room coffee table and cooked up a little magic.
My daughter immediately picked up the popsicle sticks and made tiny masks using a small sparkly mustache or glittery lips. We slipped the mini masks in the valentines for my son's crowd; and, for my daughter's classmate, we matched the mustache masks to robot erasers from Pangaea and the ruby lips to paper bows from Urban Handmade.
I filled out thirty-some juggle-themed Valentines for my three year old son while my daughter filled out her paper airplane valentines. I was happy for the practice going over all the children's names…four and a half dozen charmers in all. Finishing our endeavor, we packed each set: one shoebox with the valentines matched to Dr. Seuss pocket-sized books for Lian's friends and another shoebox with our daughter's whimsical offerings.
Later, when I arrived at school to pick my daughter up after her Valentine's Day party, I would see girls wearing their paper bows and boys sporting dashing mustaches. I smiled to myself as they chased each other about the gym. Back in the classroom, the paper hearts hand-made for my daughter's first grade teacher warmed my heart as did the packed grocery bags standing at the children's desks like chests filled with pounding hearts. The outpouring of friendship is my favorite part of the day. We honor the fellowship that we receive as gifts each day with tokens of warm regard.
In special recognition of her closest friends elsewhere in the school, we prepared a few extra items on Thursday night. Among these, we found a button with a fire breathing monster for her best friend. Perfect! we thought, a great tribute to her enormous affection. We laughed also at the serendipity. Our Valentine's Day plans included scaring ourselves silly at the Yellow Springs Kids Playhouse production of Corrie Van Ausdal's musical Godzilla! which first pounded into town at the Glen Helen Auditorium last weekend.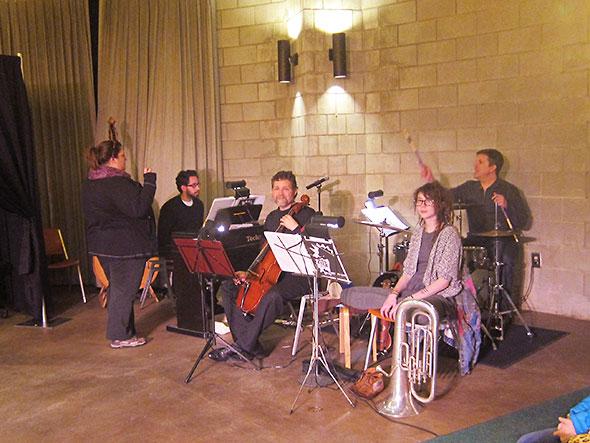 Indeed, on Valentine's day, after the card exchanges and a candlelight dinner featuring Dad's homemade spaghetti sauce, we braved roads covered with a fresh skin of slippery snow to attend the YSKP musical. We took our seats at the back of the stage looking out at what is normally the audience. For Godzilla!, the space had been refitted with black curtains and a series of projectors hidden behind a white screen. Part shadow play, part live action, the production chronicles the terrible events of Godzilla's rise and unimpeded march through a surprised drama-filled nation. In the audience, we sang along to the monster's ballad as city after city fell under the weight of a menace that we created and then could not control. Our daughter cringed in the back row with her parents, but our daring son in love with the shadow play and in raptures over the live music took a seat at the front of the stage next to a young like-minded friend and laughed ardently as havoc rained.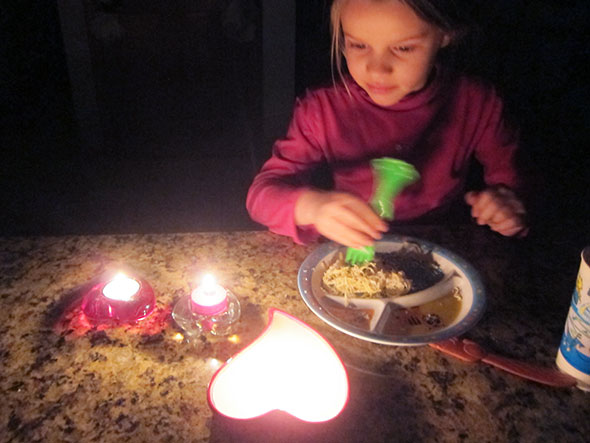 Driving home, my daughter wondered aloud why we put ourselves through such an ordeal, but really she knows the answer already. After all, she was the one who lit the candles at dinner and turned off all the house lights. We often plunge ourselves into darkness to illuminate that one thing we want to focus on with immediacy. We open ourselves up like a shoebox full of valentines vulnerable in that moment but alive with the anticipation of seeing sparks as they start flying. Here, on Valentines Day, that light beamed on the responsibility that we owe to one another…an affirmation of the ferocious fire within each of us and the sparks that ignite us every day.