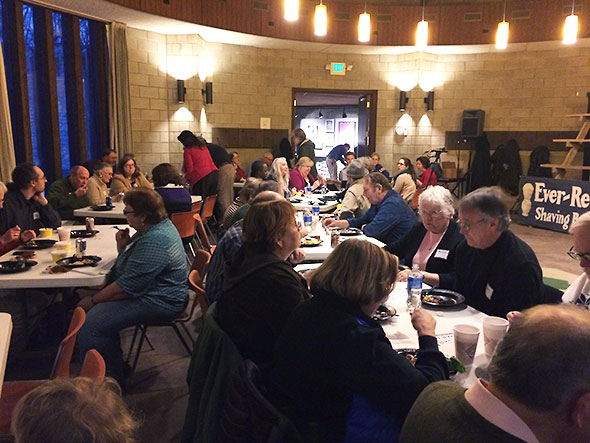 When I planned my first move into the Greater Dayton area, I already had a good idea where to live. I visited Dayton a couple of times a year early in my Air Force career; and, whenever I did, I tuned into the local public radio station. The station's reception always improved as I approached Wright Patterson Air Force Base from the Dayton airport…enough to tell me that the station must broadcast from the east.
Following those radio waves back to their source, I pinpointed Yellow Springs and, in 1994, moved into a charming cottage five blocks south of the radio station's studios. Single and in search of kindred spirits, I knew the station would provide more than music and news. It would have its finger on the pulse of community events and the local music scene. It would pool a tide of interesting people. I knew these things from volunteering at WITR in Rochester and KKJZ in Long Beach, California, but I had not yet experienced anything like WYSO. The volunteer corps for the station was active, knowledgeable, and head-turningly talented. I started out making modest contributions volunteering at data entry and answering phones. I enjoyed volunteering during the blues and jazz show at night. I was delighted on Thursday nights when the jazz show host Corey Slavitt took the mic and her vivacious golden retriever Zoey spent time with the crew at the phones. Zoey and I made fast friends playing fetch and tug of war. Corey caught up with us quickly and proved a great buddy introducing me to Culture Works, Canal Street Tavern, and the Web Coffeehouse.
As much as a vibrant community resource as WYSO proved to be in the 1990s, the station impresses even more today. With projects like Community Voices and Reinvention Stories, WYSO has reinvented the role of a radio station; it is not merely a broadcaster but a mentor broadly advancing the art of storytelling within the area.
Last month, when I received an invitation to the stations's annual Volunteer Appreciation Dinner, I was delighted to go. The program read like fun dinner theater with the meal catered by Young's Dairy and a musical performed by Mud River Theater Works. My daughter and I had seen Mud River twice before and, in short order, my husband caught our excitement and signed all four of us—the two children with the two adults—up to attend.
When the evening began at 6pm, the family and I ran the buffet featuring Young's addictive sweet potato bread, green salad, roast beef, grilled chicken breast and the all American favorite macaroni and cheese,. We lingered over the dessert offerings carefully selecting our favorite frozen creations from Young's Dairy. The auditorium was soon packed with volunteers. We met up with several people I knew since the 1990s; others had been pulled in to serve by the exciting contributions the station has made in recent years.
As we took in spoonfuls of ice cream, Developmental Director Luke Dennis stood up and shared news of upcoming projects including the return of StoryCorps—a national project to record interviews with everyday Americans—to the Dayton area. General Manager Neenah Ellis gave an appreciative testimony on station's volunteer of the year, Harvey Paige who coordinated interviews at the StoryBooth when StoryCorps last came to Dayton. Luke Dennis then invited Bob Lucas of Mud River Theater Works to introduce the night's musical. He informed us that the theater troupe were giving the year's final performance of Everybody's Hero. Written to simultaneously entertain and inform young audiences, the musical is a tribute to the life and impact of Jackie Robinson, the first African-American to play major league baseball. Luke Dennis announced also that the performance's audio was being recorded for future rebroadcast on WYSO. So warned, we prepared our best audience manners and sat back as the booming ballad of Jackie Robinson historical voyage filled the auditorium. Listen for the rebroadcast as baseball season opens in April.
Mud River Theater Works produces original productions that "reach back into history" to portray people and events that shaped our nation. Their characters are played on a human scale, the music drawing from the folk tradition. Motivations are exposed as are the uneasy conflicts; its heroes wrestle with consequence, facing certain personal sacrifice but mindful of the intended broader impact.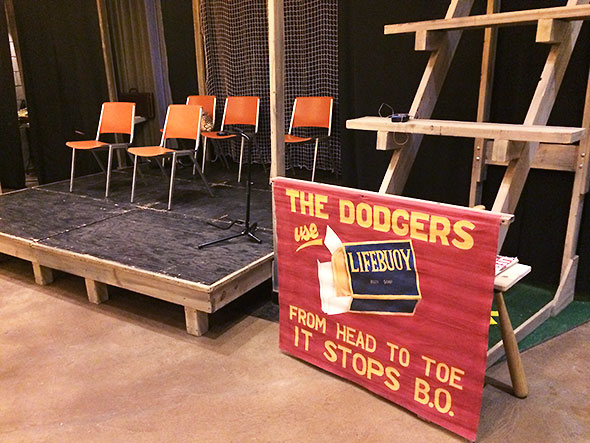 Later that week, the Mills Lawn Parent Teacher Organization hosted Bob Lucas for an evening of music and storytelling at the school gymnasium. Along with his wit and mesmerizing way with words, Mr Lucas brought a fiddle, a guitar, and at least two banjos. After his first number "I get along", he called the children forward to examine his first banjo, a beautiful instrument with steel strings, a mother of pearl studded neck, and the body of a snare drum. The drum, he told the gathered children, gave away the origin of the instrument. He and his audience navigated the instrument's journey from Africa to the United States, its design smuggled to shore in the minds of captured Africans sold here into slavery. Holding up a second banjo, he pointed to its body—a skin-covered gourd—and demonstrated the sliding, bouncing play of its fretless neck made from a solid wood board that pierced through the gourd.
The last person I saw play a fretless banjo was a personal hero: Pete Seeger, the great singer songwriter who left us in February. Mr Seeger's impact on my life was profound. He taught me how to be skeptical but in a gentle way that allowed for reconciliation and healing. He put the words in my head and songs in my heart that told me my worth and all things worth striving for. I loved how he stood shoulder to shoulder with his fellow Americans, a teacher who showed us the way and never lost his. Upon hearing of his death, I brought up a recording of Pete Seeger and Johnny Cash on YouTube in which Mr Cash gifted Mr Seeger with a fretless banjo. After having a little fun with the traditional tune "Cripple Creek", The two of them then joined the audience in singing the war protest song "It Takes a Worried Man", a cautionary tale of American justice that counsels to not accept the status quo but to hold to a standard that serves all people.
That evening listening to Bob Lucas I realized how much he was cut from the same rich tapestry that gave us Pete Seegar and his contemporary Woody Guthrie. Mr Lucas's songs resonate with a wisdom seated in the odd comfort of historical perspective and reveal the twisted impact of life's competing forces. He treated us to a free-spirited song written in the voice of bold, silver-tongued Daniel Boone and another song offering the passionate testimony of a black-hatted Amish man intrigued by steam power and its analogous mixture of water and fire.
Bob Lucas shared with us his own encounters with Pete Seeger, a tall steady man with a great love of sweet corn and an talent for inspiration. Mr Lucas then lead us in singing "Where Have All the Flower Gone". My six year daughter began to dance in front of Mr Lucas's low stage enjoying the soft beautiful tune and the entwining harmony. As we started the final verse, I watched as she stopped, turned to the stage, and listened intently to the final words as their implication sunk into her skin. I could feel in that moment a small but important change come to her.
Earlier in the night, Mr Lucas had defined what an instrument was for her and the other children. First, he told them, you need something that vibrates; second, you need something that resonates. My heroes are like Mr Lucas, also Ms Slavitt, Mr Dennis, and his company of WYSO volunteers that keep the radio waves humming. They vibrate with a force that resonates in our children, in our own souls, turning us toward what matters most.