Since mid October, entering into the community gallery of the Yellow Springs Arts Council, 111 Corry Street, has been like entering into a mystic portal. The exhibit Explorations of Dreams and Memories is an exceptional collection of work by mixed media artist Sharri Phillips. If you have not yet been, today—Sunday between 1 and 4 pm—is the day to go.
Artist Sharri Phillips invites us into her dreamspaces…beautifully cultivated realms brimming with grace, play, and goodness. Her deftness at stitching together far out backdrops, blushing faces, and the exotic menagerie makes me want to sit at her feet as she works her special kind of magic.
On the deck of her Ship of Dreams is a silver moon fast asleep and deeply content. Only the gentle scoop of its seat suggest it wants for anything…perhaps only a companion to cuddle close. Its vessel is finely appointed but fancifully. Instead of a ship's wheel on the high deck, there is a spinning carousel. The main mast is in fact a hot air balloon of blue and pink silk embellished with gold. The quarters below deck are splendid and regal, a deep blue room filled with stars, stain glass, tea pots and tea biscuits, and dangling models of flying machines.
Phillips is a master of surprise. When we visit on Sunday, she demonstrates the working apparatus on the exhibit's largest installation. My daughter's jaw drops and we both marvel at the unexpected mischief in the piece. Dreamscape is a landscape synthesizing exotic Persian architecture with amusement park apparatus. Phillips rotates the three working ferris wheels and spins a carousel for us as we admire the many points of interest.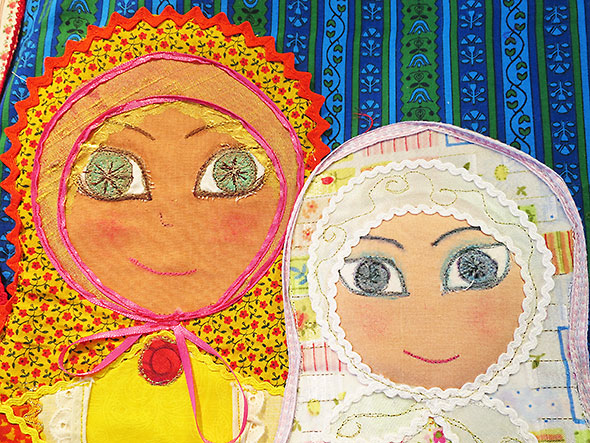 The details of Phillips' work deepen the charm of each fantastic rendering: the crystal-like facets of her Russian nesting dolls, the star-filled nooks and cupboards, the blossoms garnishing sill and sash. Here is the music room with a phonograph. There, a the rocketship ride. A secret treehouse room. And who is this? A woman who charmingly like Phillips fashioning miniature horses within the booth of a carousel ride.
We find one piece that does indeed include a self portrait. The hanging quilt entitled Lucy and Me features a young woman with curly brown hair. She is riding atop an elephant. Her eyes are closed yet she smiles as if in the midst of a pleasing dream. Her canopied bed called a howdah is bejeweled by dangling garnet, a golden lattice, and exquisitely crafted cloth flowers. Her transport—a splendid gray elephant named Lucy—gets its namesake from Lucy the Elephant, a novelty six-story building that served as a lookout point and restaurant for a hotel south of Atlantic City, New Jersey.
Phillips grew up near Lucy and the many attractions of the Atlantic City Boardwalk. Many of her pieces reflect the dense opulence of the boardwalk, its carney Steel Pier amusements, but stripped to their most innocent vestments and reappointed with the intriguing, lustrous, and endearing.
Along with the carousel horses, the comfy hideaways, and the canopied beds, Phillips' exhibit is populated with curly haired fairies. They flutter about the room in a rainbow of colors. They line the window sill, descend from the ceiling, and decorate the golden treehouse at the heart of the exhibit. One red haired fairy has perched herself within the artwork at the base of a treehouse swing. She is tempted I'm sure to test its weight.
Like these magical creatures, my daughter and I flit here, there, and about the room. With these intricate tapestries and deep multilayered enchantments, we could be most happy. Phillips has fit us with a magic carpet. With her as guide and architect, our imagination takes wing.