BLOG-Pear Plum Blueberry Pie
It is established that my daughter loves blueberry pie. My preference is for fresh pear with dried apricot or plums.
So we compromise.
We are going to a dinner party and have promised to bring pie. The evening before, we prepare the filling. First, we cleave two pears with an apple slicer and an orange about its waist. The pear slices get a bath of orange juice squeezed from one half and then a generous sprinkling of orange zest. We combine the pear slices with two pints of blueberries and a pint of dried plums…enough fruit to fill two pies easily.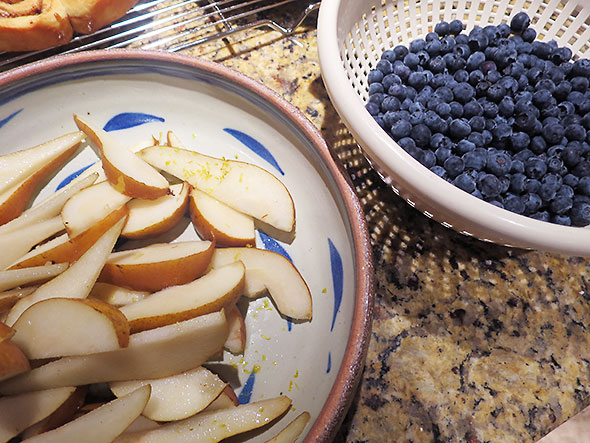 The low bowl that cradles the fruit has recently arrived from Miami Valley Pottery, 145 East Hyde Road. Ceramic artist Naysan McIlhargey posted a collection of shallow serving bowls that had come fresh from the wood fueled kiln. I spotted this bowl. Its blue detailing—nested rings of moon slivers—suggested the petals of a marigold. McIhargey set the bowl aside for me, and I rescued it just before Christmas. As I fill the bowl with fruit, I notice how its blue detailing matches the berry, how the trim and sweep of stoneware parallel the pears' skin and flesh. The fruit gets a generous dose of cinnamon and nutmeg, but I skimp on the honey. Knowing a dose of cream and a drizzle of honey, will dress the dessert plates, I add only a half cup probably one part of the two parts that would be typical. For now, I splash a bit of port over the concoction, cover, and place it in the refrigerator to mingle overnight.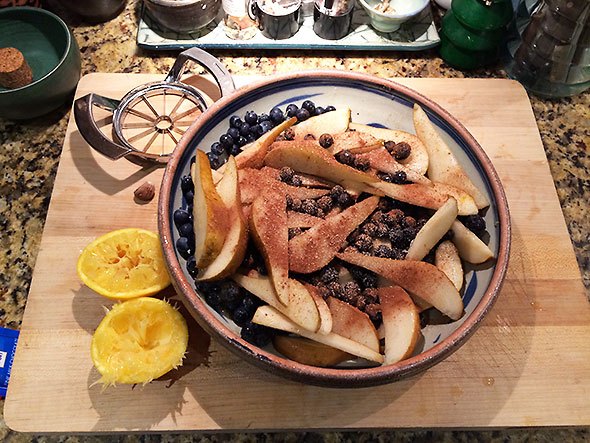 I make the pie dough next. From Tom's Market, I have brought a new baking flour: Red Mill's organic all purpose flour, unbleached, unbromated. In my food processor, two and a half cups of the flour are pulsed with a teaspoon of salt, and a cup of cultured butter taken chilled from the freezer. I dump the mixture—the consistency of rice—onto a piece of parchment paper and call my daughter over to participate in the next step. We form a volcano out of the mound and, in its caldron, spoon six tablespoons of water chilled with ice.
Next, we cover the water with the cold floured butter and let it sit for a bit. I tell my daughter that we are letting science mix the pie dough for us. We tend the mound to stop any leaks as dispersion percolates the water through the mound of dry ingredients. After weighting a minute, we squeeze the mound together. Some of it forms a dough immediately, some crumbs as we let go. We slowly add more cold water until the dough just comes together into four or so separate balls that flatten into a pad without breaking apart. With the help of our kitchen scale, we combine the dough into two balls of equal weight then flatten each into a two-inch thick pad. Each pad is then folded up in a square of parchment paper and placed in the kitchen to chill overnight.
In the morning just before breakfast, I bring out the chilled dough. One pad I give to my daughter and one I place in front of me. After we give each pad a good pounding to warm them up, we roll out the dough. I roll mine into a circle while my daughter rolls her section into a rectangle. I transfer my round to the bottom of a pie plate, another dish from the Miami Valley Pottery, painted with a pattern of blue waves. We load fruit into the plate and then dust it with tapioca flour. While I prepare a wash of egg and cream, my daughter takes a metal spatula and cuts long thin strips from her rectangle of dough. We weave her strips together to form a lattice. We complete the lattice with strips leftover, so we reinforce the rim of the crust and mold decorative leaves and berries to decorate the top of the pie.
When this pie comes out to the oven, the crust is a flacky, crispy, crunchy light brown, sturdy enough that the whole pie lifts out to the plate. At dinner, a few hours later, it cuts easily into wedges. We hand out slices of our pear plum blueberry pie dolloped with fresh whipped cream and a drizzle of honey.
In two days, we make a second batch of pie crust—using the same organic flour—and create a crostata that achieves the same marvelous crispy crust. The crust embraces a bubbly blueberried sauce which is seasoned to an even richer depth for the days' wait.
I have to smile at this time. We've fallen slightly out of step with the long tradition of handing down family recipes. I'm not so much sharing this pie recipe with my daughter as exploring it with her. Together, we discover its secrets—making them our own—in the balance of our give and take.