BLOG-Winter Goods, Greens and Woolies
As a child, I didn't sleep in on Saturdays. I'd get up with my siblings in the early morning light to catch the Saturday cartoons on television. Get up too early and we'd suffer through Sunrise Semester—a half hour of fact-filled lectures by well-intended New York University professors—so we wouldn't miss a single second of Bugs Bunny and company. We'd stay there glued to the tube until either my parents would flush us out or until morning cartoons gave way to the afternoon sportscasting.
These days, I get up Saturdays at sunrise to go to the farmers' market. In the months of January, February, and March, I open the winter market. A little before 7:30am, I key the door leading into the Great Room at the Yellow Springs Senior Center, 227 Xenia Avenue, and start rearranging furniture. The early bird vendors come in right behind me and together we reset the room. After forming large loop with nine or so tables. We drop tarps and tableclothes to protect surfaces and then vendors turn to the task of their individual set ups. Racks, baskets, crates, and shelves shuttle into place.
About a half hour into set up, customers start lining up. Hard core fans from the village and Dayton arrive as much as 45 minutes before the market opens. Market bags in hand, they wait patiently in the hallway between the senior center's front offices and the Great Room. By 8:15am all the vendors have arrived and are putting the final touches on their tables.
The Winter Farmers Market—a joint venture by the Yellow Springs Senior Center and the Yellow Springs United Methodist Church—is open Saturdays 8:30am to 11:30am at 227 Xenia Avenue during the winter months of January, February, and March. The market was established in the year 2010 in the fellowship hall of the Methodist Church. In 2015, the market moved to the Senior Center and the heart of downtown Yellow Springs.
So far, eight vendors have returned to the winter market in 2016. Blue Oven Bakery brings up racks of fresh baked goods—croissants, english muffins, and bread loaves—from Cincinnati OH. The bakery anchors the market, and part of my job as market manager is to manage the line that forms in front of the bakery's table.
A second line forms for fresh produce which the Baker family brings down from Springfield OH. Loretta and Brian Baker along with their daughter Kara grow kale, swiss chard, and other greens in their greenhouses. These fresh items disappear quickly at market but fans of the Bakers also pick up micro greens, baked goods, and granola throughout the morning.
Market customers love their winter greens and, if customers miss out on buying greens, they can take serious thought growing them indoors. Bradley Cambell of New Carlisle OH brings a fully assembled tower garden to market. He has helped several families get set up with their own aeroponic garden and worked with the Yellow Springs High School on the Food for Thought project to stand up two towers in the school hallways.
From South Charleston OH, Louis and Don Berrier bring savory herbs and spices. Many of their ingredients are grown and dried on their urban farm. The Berriers often offer samples of food prepared their spice mixes…hot samples served from a crockpot or vegetable dips served with bread and crackers.
Dan Accurso of Running Bare Ranch comes from Springfield OH. Accurso and his wife Debi sell bison meat at their organic ranch near the Clark County Fairgrounds. The Accursos also raise chickens, and Dan brings their eggs to the winter market.
Billie Setzekorn offers pork produced at Wild Hare Natural Farm. Located just outside Yellow Springs, the farm raises heritage swine breeds—Berkshire and Hampsire—using sustainable, free range methods.
When my children come to market, they have a set of vendors that they gravitate toward. My son and daughter like to visit the Fallas family of Morning Granola. Vanessa Fallas and her family are from Kettering OH. My children, drawn by the bright heart shaped bowls of samples, pick favorites among Morning's five varieties of breakfast cereals and granola-studded baked goods that include cookies, breads, and snack bars. My daughter prefers the popular coconut infused snack bars while my son likes the ones dotted with chocolate chips.
My children next visit Valerie Rieker of Ludic Soap. Rieker brings her fragrant, handcrafted soaps from Springfield OH. My daughter in particular lingers over Rieker's diverse array of scents and colors. She finds Rieker's display charming and points out Ludic Soap as a model vender to market newcomers.
My daughter often stay with me at market sharing the responsibility of ticking off market customers as they enter through the main door. We keep track of foot traffic as feedback for the Senior Center and for the vendors. The traffic is notably different from last year. We are still clocking good numbers but this year customers arrive at an even pace. So far in February we are averaging a little over 50 people per hour whereas last year we'd got slammed in the opening morning hour. Everyone—vendors, customers, and market manager alike—appears to prefer this year's pacing.
When my daughter attends as assistant manager, she likes to sit by Patrick Harvey of Brother Bear Coffee. Harvey lives on a farm just north of Yellow Springs and brings his fresh roasted coffee beans to market along with a massage chair. He is a great favorite of the market In no small part due to that massage chair; both vendors and customers take turns at the chair. Personally I go for his coffee beans—oh, that city roast—which he offers in blends of light to dark roasts. I often find my daughter and Harvey trading plans for anticipated projects. I like that she's learning something of running a business from these industrious people. I also like that the market is a social place to tune in. Vendors can exchange stories—both successes and setbacks—and customers linger, trading news and their own outlook on village matters.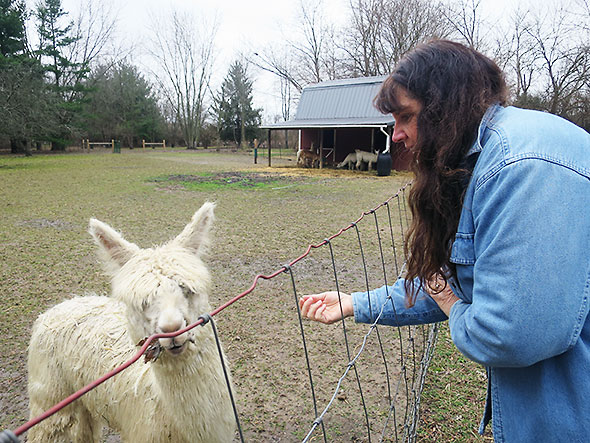 Among my duties as market manager is bringing in new vendors and fitting them into the mix. A new vendor joins the winter market crew this year: Purdy Lil Suri Alpaca Farm. For over a year now, I've been looking for a local textile vendor…one that might bring winter hats, gloves, and socks. Collene and Tom Miller answered the call. They raise alpacas in Huber Heights OH. As part of the vendor application process, I went to visit Millers at their farm just after Christmas. There I got a chance to meet the animals and to check out the Miller's diverse line of products.
Along with the woolen winter gear made of alpaca wool, the Millers offer a popular, practical wool dryer ball. Tumbled with clothes, the wool balls act like dryer sheets making clothes soft and static free. The product is popular for many reasons: they are chemical free, reusable, and decrease drying time.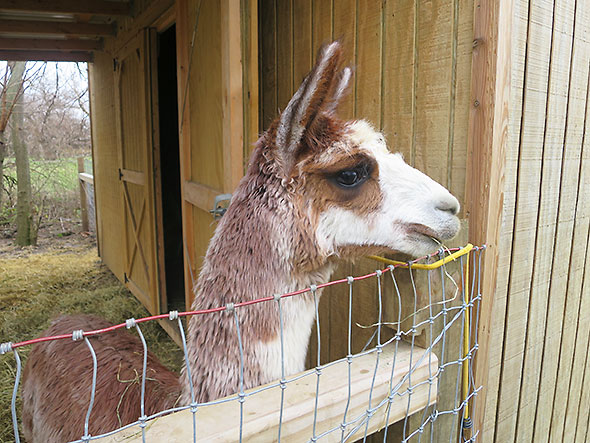 Since joining the market from the first Saturday in January, the Millers have brought a rotating set of fun items including finger puppets and cat toys. They have discovered that purple is a popular color in Yellow Springs.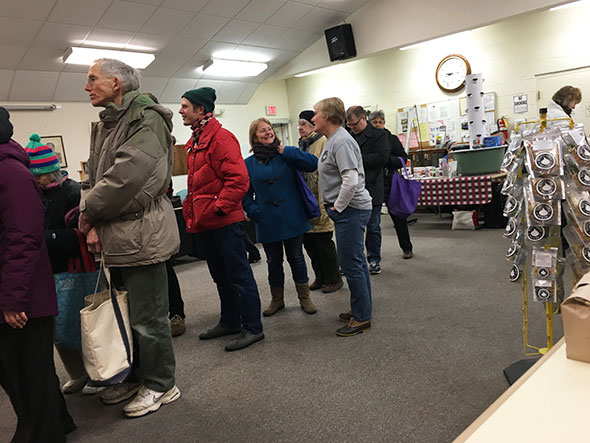 I've picked up two pairs of purple wool socks myself. I've been happy for them even though the first weeks of 2016 have been surprisingly warm. I've been warned by good authority among market regulars that winter is due to return. After several years of helping out at the winter market, I know that Greene County Snow Emergencies are typically called in the month of February. In all things weather, we'll have to wait and see. In the meantime, I hope to see you bright and early Saturday mornings at the Winter Farmers Market. It's worth waking up for.