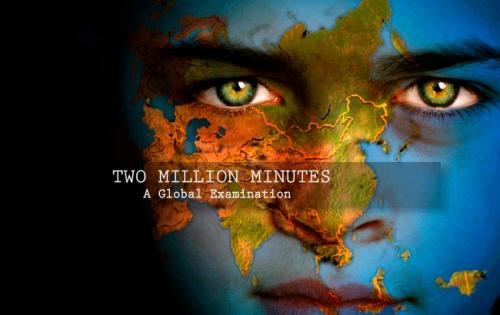 Education film series concludes with "Two Million Minutes"
Two Million Minutes, a documentary comparing high school students in the United States with their counterparts in China and India, will be shown as the last film in the Yellow Springs School Board's series on Saturday, March 26, at 1 p.m. at the Little Art Theatre.
Admission is free and a discussion led by Yellow Springs High School students will follow the screening. Part of the 2020 Initiative, the series featured films and lectures on the future of education.
Synopsis for Two Million Minutes: Regardless of nationality, as soon as a student completes the 8th grade, the clock starts ticking. From that very moment the child has approximately two million minutes until high school graduation, to build their intellectual foundation, to prepare for college and ultimately career, to go from a teenager to an adult. How this time is spent will affect their economic prospects for the rest of their lives. The film takes a deeper look at how the three superpowers of the 21st Century — China, India and the United States — are preparing their students for the future. Following two students, a boy and a girl, from each of these countries, a global snapshot is composed of education, from the viewpoint of kids preparing for their future.