Local policing survey results
A desire for more engagement between the police and the community was at the top of a list of suggestions for the Yellow Springs Police Department in a recent online survey.
Three-quarters of those surveyed said they would like the police to engage with the community more often, including by patrolling more on bicycle and foot instead of in their cruisers and visiting schools to speak with students.
Police should also complete in-depth training in how deal with the mentally ill and disabled in crisis situations, dispatch services should remain local and the Mayor's Court should adjudicate on as many local matters as possible, according to the majority of those surveyed. In addition, majorities did not believe that the YSPD should participate in the regional SWAT team and ACE drug task force and that the department needs more officers.
The survey also revealed that respondents believe Yellow Springs is an extremely safe community, and two-thirds are generally satisfied with the YSPD. However, while two thirds were satisfied with local police, those figures may have fallen from a 92 percent satisfaction rate 10 years ago. And among those who have been pulled over, cited, arrested or appeared at Mayor's Court, around 30 percent agreed that officers were unjustified in their actions, and 25 percent found them overly aggressive during their interaction.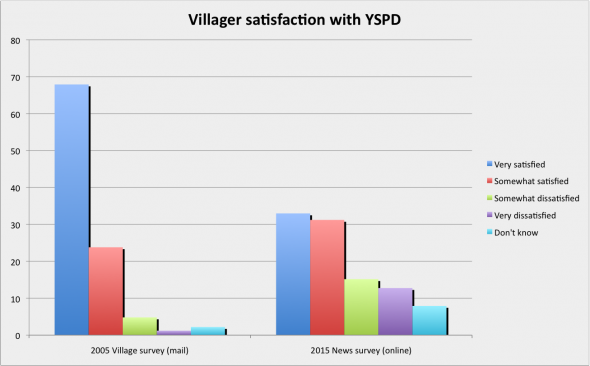 The survey also revealed that respondents believe Yellow Springs is an extremely safe community, some of which is attributable to the Yellow Springs Police Department. The majority believe that officers are professional, respectful and reasonable and not overly aggressive or unjustified in their actions. The majority of respondents also know one to two of the 10 local officers by name or sight and believe that crime here has stayed the same over the years.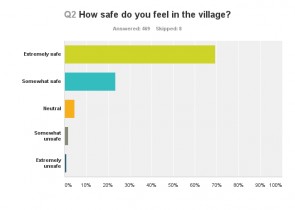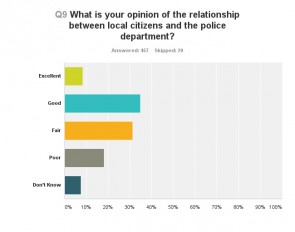 In total, 477 people completed at least part of the online survey, which ran for three weeks in April and May. The survey was not representative of the village in several demographic categories, with less participation from local teens and from African Americans. It fairly represented the village in other racial and age categories as well as in household income and gender.
Read the articles summarizing the survey in the May 14 and May 21 print editions of the News.
Download a summary of the survey here:YSNewsPoliceSurvey_Summary
Download the "Additional Comments" section of the survey here:AdditionalComments
Download two other sections of open-ended comments here:ExperienceWithYSPD
And here: ExperienceWithYSPD2
Read the other articles in the Police Matters series here: Police Matters Series