Mid Summer, Beth Bridgeman sent out an invitation to Seed School at Antioch College. Immediately, I knew I wanted to attend. I've been a seed saver for several years—mostly of squash and mostly to eat—and I was motivated to learn more about the skill of saving seeds. Also, as the manager of the Yellow Springs Winter Farmers Market, I was motivated to network with local producers. The class met in the auditorium of the Glen Helen building. At the front of the room was a cornucopia of plant matter including many varieties of corn. Over the course of five days and nights, we learned how—over multiple generations of plants and peoples—seeds have been selected for propagation. Some are selected merely for their ability to survive, establishing a land race fitted to their local environment. Other plants were given special attention and selected for taste, texture, beauty and other desirable traits.
Among the seed samples, we examined examples of vegetable crop seeds and their wild counterparts. Corn was given particular attention. It's a kind of grass best grown in plots of 100 plants or more to ensure vigor in pollination, the exchange of genetic material. The seeds of its wild parent teosinte look like bits of origami paper tightly folded into triangles. The difference between wild and cultivated was striking and, yet, their natural connection once demonstrated made perfect sense. Most of us know and love corn as sunny yellow kernels aligned in rows and wrapped about a cob of near standard length. The sameness of corn however is a modern invention. Edible corn is grown in sizes and colors of great variety. The difference in appearance is mainly skin deep. One student at Seed School brought a cob of blue pigmy corn that she grew at on her property. In examining the blue skinned kernels, we found that the inner flesh of the corn's kernels were bright yellow. The flesh of the blue pygmy corn—a variety of notable quality—was sweet and good.
Like mass-produced corn, store-bought tomatoes are most noteworthy for their blah sameness. While the seed class was in session, I was plucking homegrown tomatoes from my garden, particularly from the vines that I planted among the black cap brambles in the front yard. The heat of the summer built up slowly this year and its delayed peak shifted the arrival of summer's favorite fruit into late season. Still, I had little to complain over; I succeeded in growing my largest tomatoes ever in my most plentiful crop to date. Their vines supported by the black raspberry canes, my pineapple tomatoes swelled to the size of a softball and then even larger. The flesh within these beauties was bright yellow and, at their very heart, splashed red. They tasted so splendid that they demanded to be shared. I sliced up two at time and split their magnificence with our neighbors across the way. I brought a larger plate—salted and dressed in olive oil—to Seed School.
The lessons at the Seed School had an urgency. Yes, many of us share the bounty of our gardens but only a few share our seeds. Agriculture as practiced since the beginning of human civilization has produced a stunning amount of genetic diversity in our edible cultivars. Suddenly, however, we find ourselves in a pinch. Over the last four decades, as agriculture industrialized and consolidated under the banner of chemical companies, the system has hyper-focused on specific varieties. With this overspecialization, diversity in crops like corn and soybeans has dropped precipitously. After millennia developing a rich polyculture, the human race is witnessing an unprecedented grab to coral generic assets for private benefit and deny the world access to its long held agricultural heritage. The Seed School—taught in compelling terms and documented findings by Evan Sofro, Bill McDorman, and Venessa Carter—made a strong case. The primary argument against genetically engineered organisms isn't about the safety of individual products; it's about sharing and sustaining community assets in a long-established joint human enterprise. Maintaining access to the genetic diversity in our seed stock, in the plants we grow year to year, has worked for thousands of years. Genetic monocultures—even those artificially propped up by modern science—have proven vulnerable to collapse on the order of decades.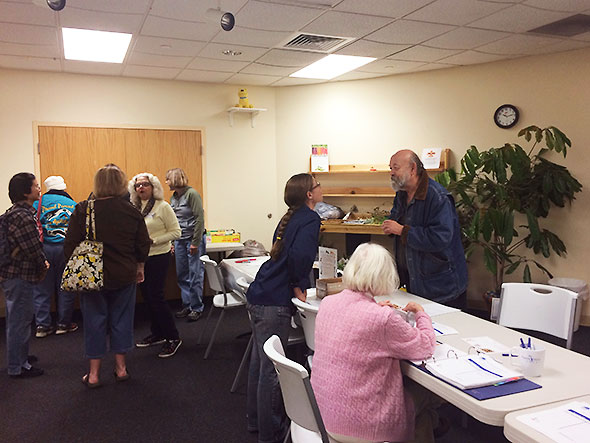 We have a way ahead. Among the many grassroot seed saving endeavors, seed libraries are sprouting up around the country, many of them administered by public libraries. The Seed School visited the Huber Heights Public Library where we met assistant Branch Manager Karen Findlay. Findlay started the branch's Seed Lending Library which stores its materials in the library's old card catalog cabinets. These cabinets, which once contained cards that directed patrons to the sorted book stacks, now contain the very kernels of wisdom, hope, and adventure we seek. Area residents can sign up and check out seed packages. Librarians urge Patrons to plant the borrowed seeds in the next growing season and to let some plants go to seed. After the seeds are harvested, the patrons check back in the borrowed material.
I searched through the catalog drawers and came away with okra, tomato, and—a favorite—ground cherries! There is no pressure to complete the exchange cycle and return packets of seeds but library—with assistance from the Five Rivers MetroParks—provides ample encouragement and support. They know that individuals are taking on a responsibility; we need to get smart on our selected cultivators so that we produce and return viable seeds for circulation. The library, the metropark system, and Antioch College for that matter are here to help. Specialization among individual producers is a good thing in this case; but a diverse population of producers must be recruited so the overall system does not overspecialize. The next event hosted by the Huber Heights Public Library is a Seed Sorting Social on Tuesday 20 October 2015 from 6:30pm to 8:15pm where community members will gather to sort, label and organize the seed donations and exchange stories about the 2015 growing season.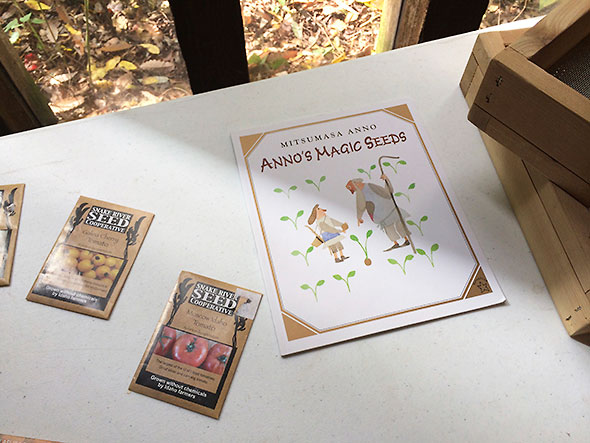 Seed School itself was populated by gardeners and producers ripe for recruitment. In addition to pollination and breeding techniques, we learned hands-on how to wet process tomato, cucumber, and squash. We built drying racks to process our seeds and discussed different ways of packaging and distribution. As we look forward, local resources like the Seed Lending Library offer further opportunities for individual gardeners and farmers to hone our skills and interact in the larger communal effort. Antioch College is inviting the community to help out with harvest this month. At the Winter Farmers Market, I'd like contribute by providing a spot for one or two Ohio-based seed companies to offer their products. In this role, I would be like the wizard in one of my favorite children's books: Annu's Magic Seeds. This wizard gave a farmer one magic seed. From this seed the farmer built himself a good life, a resilient life, leveraging the compounding growth of his produce. I love the math that the book demonstrates, but I now understand the true magic within the wizard's seeds. Genetic diversity is the stuff that we need to get us through in a pinch. It is our essential heritage and the world's unique source of resiliency, beauty, and trust.