Community Solutions to host restorative conference
A contentious election where the political divide seems increasingly distant; a climate crisis that's spawning a growing number of destructive storms and devastating wildfires; systemic racism that perpetuates ongoing violence against people of color; immigration policy that has led to a humanitarian disaster at our southern border; and a global pandemic that affects every area of our lives while the number of cases and related deaths continue to rise.
The anxiety of our time is acute — and there is much damage in need of repair.
The locally based Arthur Morgan Institute for Community Solutions was established 80 years ago on the premise that solutions to our social problems are found in community. Toward that ideal, its annual national conference seeks to explore effective practices that support resilience and sustainability.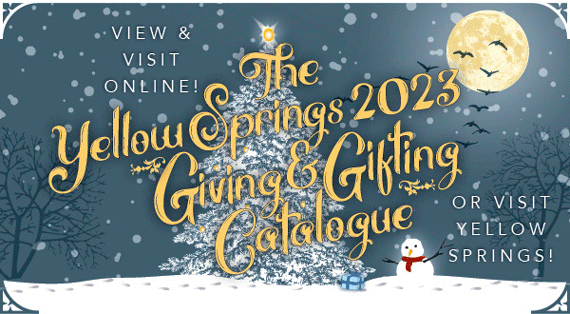 This year's conference, the organization's 66th, is titled "Pathways to Regeneration: Restoration, Resiliency and Reciprocity," with a particular focus on food growing and preservation. It will be conducted online this weekend, Friday through Sunday, Nov. 6–8.
Topics include protecting seed biodiversity and recognizing the leadership of Indigenous communities in this effort; restoring native habitats; introducing children and adults to immersive activities with nature, building empathy and respect; celebrating and understanding reciprocity in BIPOC (Black, Indigenous, People of Color) traditions; and restoring ecosystems through land practices that regenerate soil, air and water.
Farmers, gardeners, environmentalists, activists, health providers, students, teachers — novices and experts — are all welcome.
In looking toward the future, the conference organizers have lined up a variety of presenters who incorporate traditional — in particular Indigenous — practices in their regenerative work.
The Saturday evening keynote speaker is Rowen White, a seed keeper and farmer from the Mohawk community of Akwesasne and an activist for Indigenous seed and food sovereignty who lives in northern California with her family.
"I believe that cultivating a culture of belonging needs to be at the heart of food systems change," White writes in the introduction of her online blog, Seed Songs. That culture of belonging extends to a diversity of perspectives, worldviews and values, she says.
Food can be restorative on multiple levels, she continues. "I believe that food is deeply healing and that when we restore our relationships with our ancestral foods, they help us recalibrate our deep internal knowing of who we are, and this is one of the greatest [antidotes] to the diaspora of disconnection that is creating so much ecological and social chaos in these time[s]."
In addition to her personal work on the land and writing, White serves as the national program coordinator for the Indigenous Seed Keeper Network and on the board of directors of Seed Savers Exchange, the largest public access seed bank in North America. She also facilitates hands-on workshops and community organizing across the country.
Dawn Knickerbocker, one of the conference organizers who also will be leading a workshop Friday morning, said that White has been inspirational to her own understanding of our relationship with the land.
"She's changed lives, including my own, through her work in rematriation," Knickerbocker said by phone this week. The concept of rematriation involves a return to a spiritual way of life with respect to Mother Earth.
Knickerbocker, who also writes a column for the News, belongs to the Anishinaabe people, is a citizen of White Earth Nation and is an enrolled member of the Minnesota Chippewa Tribe from the Ottertail Pillager band of Indians. An environmentalist, activist and Indigi-feminist, she said she has been involved in the Indigenous food movement, nutrition and working the land for 25 years. She is also the current co-president of the Greater Cincinnati Native American Coalition, the founder of W.A.R.N. Ohio (Women of All Red Nations) and leader of Ohio Mothers Out Front.
Her conference workshop is titled "Reciprocity in Native American Traditions."
"There's a different kind of relationship" between people and the land within Indigenous communities, Knickerbocker said.
"The land is not something to own, to take from," she said. "We have a reciprocal relationship. When we're given a seed, we're given a gift. We're supposed to treat this with reverence — it's a responsibility."
"The land is not something wild to be tamed," Knickerbocker continued. "We have to work together, we have to work in harmony."
As a conference organizer, Knickerbocker said that the timing of this year's gathering feels important.
"We're at a confluence of a few things happening all at the same time," she noted. "Number one, we're in a climate convergence like we've never been before, with more news being shared globally. Number two, it's an election year that some people are calling the election of our lifetime. And number three, November is Native American Month; Indigenous people have a lot of answers to crises we are in."
In featuring several Indigenous speakers on the conference slate, Community Solutions is working to include concepts that have traditionally been left out of mainstream conversations, Knickerbocker said.
"The voices of Indigenous people have been ignored for a long time," she said.
The current pandemic offers a striking example in the importance of listening to Native voices for knowledge and guidance, she added.
"If we look to people who have survived pandemics in the past, that's also Indigenous people," she said. "We've been here before. We are resilient. We know how to do this."
She also pointed to the widespread gardening efforts this summer, with people across the country talking about pandemic-related "victory" gardens, such as were planted during World War II.
"We know how to go back to the land," she said.
But sustainability and regenerative practices have a deeper resonance than growing your own food, she said.
"It's not only with the land, we can do this with our minds as well," Knickerbocker said. "It's our whole way of thinking. We aren't just talking about regeneration of plants and soil and earth, but also our spirits, and about how are we going to be regenerative in our actions with each other."
While the decision to take this year's conference online was difficult — "We just really, really wanted to be together" — Knickerbocker said that organizers realized that the mission of Community Solutions and its Agraria farm property could reach a wider audience online.
"Now that we can invite people to come to this conference from their living rooms, it became richer and more expansive," she said of the conference.
The conversations and actions here in Yellow Springs can serve as a blueprint for other communities on a bigger, more global stage at a time when those models are desperately needed, she said.
"How are we creating spaces for people to thrive?" is the fundamental question, Knickerbocker said, and it hearkens back to "what Arthur Morgan introduced in the first place," when the engineer and former president of Antioch College founded the organization that became Community Solutions.
Other participants in this weekend's conference include:
• Peter Bane, author of "The Permaculture Handbook," who will speak Saturday morning on "Urgent Action for Climate Cooling," during a Restoration, Resiliency, & Reciprocity panel;
• Chad Bitler, a research scientist with the Greenacres Foundation, who will present a Friday afternoon workshop on "Rotational Grazing";
• Sallie Calhoun, founder of #No Regrets Initiative, who will present a workshop Saturday afternoon on "A Joyous Partnership between People and the Planet";
• Emma Loomis-Amrhein, a regenerative land manager and naturalist at Agraria, who will lead a Sunday afternoon workshop titled "Avian and Human Foodways: Towards Mending Ecological Communities with Regenerative Agriculture";
• Nicole Manieri, who lives with her family at Heartbeat Learning Gardens outside Yellow Springs and will offer a Friday afternoon workshop on "Rhythm and Song in Community Healing Space";
• Adam Sacks, the executive director of Biodiversity for a Livable Climate, who will lead a Friday morning workshop titled "Still So Human An Animal";
• Judith Schwartz, author of "Water in Plain Sight: Hope for a Thirsty World," who will give the Friday evening keynote talk; and participate in a Saturday afternoon workshop titled "Water for a Thirsty World";
• Doug Tallamy, a professor of entomology and wildlife ecology and author of "Nature's Best Hope," who will speak about his book on Friday;
• Anthea Van Geloven, a farmer and gardener at Spikenard Farm and Honeybee Sanctuary in Virginia's Blue Ridge Mountains, who will present Friday morning on "Creating a Honeybee Sanctuary";
• David Van Tassel, lead plant scientist with The Land Institute, who will participate in a workshop on "The Race to Perennialize Agriculture: Lessons from the Pandemic";
• Greg Watson, director of policy and systems design with the Schumacher Center for a New Economics, who will speak Saturday afternoon on "The Wisdom that Builds Community";
•Arrow Wightman, a naturalist, who will offer a Sunday afternoon workshop on "Survival Basics."
For more information about the conference and its speakers, a daily schedule and tickets, go online to http://www.communitysolution.org/pathways-to-regeneration.