BLOG-Bright Day, Bountiful Picnic
I'll admit this past week was hard. Between daylight savings and a gray turn of weather, the morning walk to the bus stop was suddenly thrown back into darkness. Luckily, my daughter was born to optimism accepting the change with grace and rediscovering the excitement of the piercing flash of the school bus as it came into sight.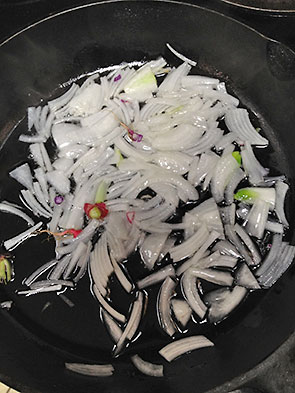 I especially appreciated her optimism on Sunday, the day the clocks turned back. I had definitely gotten up on the wrong side of the bed. The dark cloud over my head was quite visible, dispelling a bit only as I began preparing a side dish for lunch. Maybe it was the business of chopping an onion and tossing it in to a sizzling skillet, but I think it was hearing my daughter taking charge of the meal.
Her father and I cooked, yes, but she supervised. Her first decree was that we were not eating inside but picnicking outside. She was halfway into organizing with her father when I caught a clue. The two of them were negotiating over what blankets could be put into service. I was like "Really?" then—looking to the back yard and the sunlit spot she had picked out—quickly ok'ed several of her picks. These she splayed in a welcoming array and then set off to find where I had hid the family picnic basket.
Jeremy grilled kabobs of marinated lamb meat while I broke into our supply of onions and mushrooms. I stirfried these vegetables in walnut oil. I added the radishes—greens and all—that I bought from Orion Organics at the Saturday farmers market. We've been using walnut oil more and more, and I particularly like the variety that Current Cuisine stocks. We enjoy the aromatics of the oil as we cook, and its nutty taste—a contrast to the floras of olive oil—shines in many foods.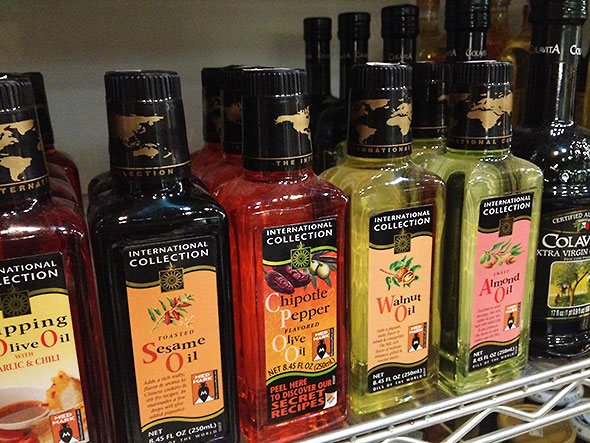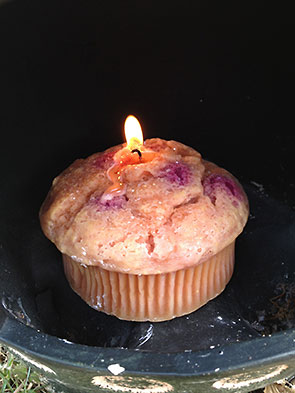 The weather was almost picnic perfect; the wetness made me yearn for a campfire. To satisfy my craving, I picked out a candle to put in our terra-cotta wood stove. It served its purpose for me, but unfortunately left my two year old craving cupcakes.
Once the food was done, our daughter directed us to our spot on the spread blankets and then asked us for our drink preferences. She poured grape juice into our goblets and produced a bowl of sweet potato chips from Country Garden and a loaf of bread from Free Spirit Farms, other mouthwatering market finds from the day before. We soaked up the sun and enough of our daughter's sunny optimism to make it through a hard week of midterm exams and final papers, the week's sprint until a much anticipated spring break. Though the early mornings of this week were dark, we could see the light at the end of the tunnel.