BLOG-Once More Around the Block
I love maps. They give perspective. They orient, they lead us to new destinations. They lay out the way to the adventure ahead and, after the adventure, they tell its stories. After church on Sundays, my father would turn the family car to whim and wind the backroads of our hometown, turning down ways that might lead to the next town, an overlook on the Susquehanna River, or a seasonal dirt road that would ride the ridge of the surrounding tree-crowned hills. He'd drive not aimlessly but in search of the uncharted byways filling in the details of our home base to studied relief. Afterwards at home, he'd take out the county map, spread it out on the kitchen table, and together we retrace our path through the back roads, noting where we might have turned but didn't and marking the landmarks…churches, barns, cemeteries, the general menagerie discovered in the course of our look-about.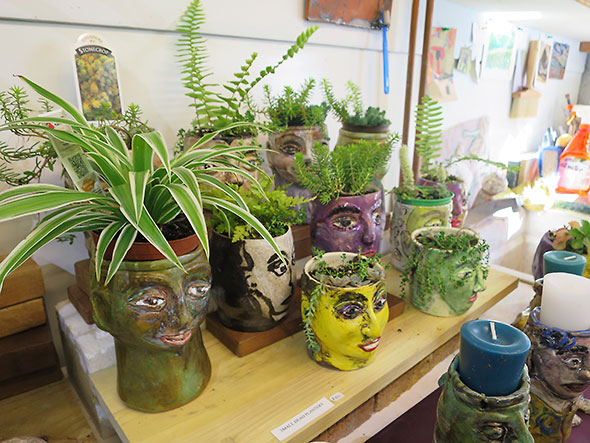 Last Sunday I shook out the map of the 15th Yellow Springs Artist Studio Tour and set my car in a counter clockwise turn about the heart of the village. I started at Beth Holyoke's studio, a south facing half basement on the north side of town. Holyoke has a lovely space. A south facing wall of windows, two well portioned rooms, and a stone patio complete with earthen pizza oven just outside. For the tour, she has tables and shelves laid out with her ceramic art. There are full size heads with sculpted crowns of lotus flower and tree bough. There are smaller busts with heads the size of newborn babies; their skins are glazed green or purple or yellow. The crowns of these smaller pieces hold living plants…succulents, ferns, and spider plants…giving their host a striking diva-like locks.
Holyoke serves as host artist to two other artists: Courtney DeYoung and Jodie Erickson Gollings. DeYoung's jewelry of hand painted ceramic clay and beads captures my young daughter's attention immediately…in particular, a red fox standing sharp against a teal blue sky. Golling's handbags of beautifully crafted leather command my attention, and soon both my daughter and I are looking over her shoulder as Gollings weaves a strap of cream, red and brown thread on a small wooden loom.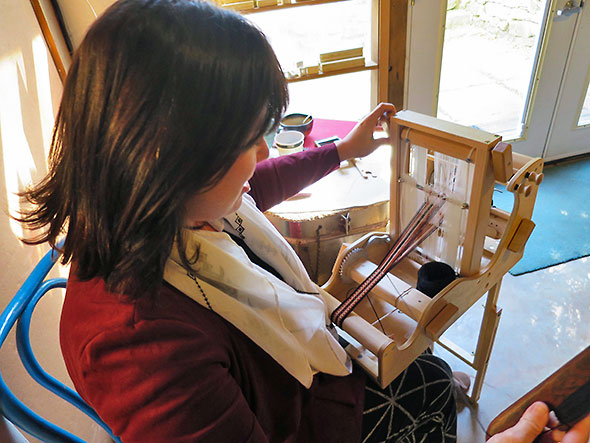 After Holyoke's studio, I next go to Pam Geisel's studio. Entering into Geisel's space is like entering into a portal back to the early 1900s arts and crafts movement. Just inside the door, Geno Luketic has his pottery set up in dark wood shelves next to Geisel's art quilts. I love both of their work. I visit first with Geisel and the quilt that I've had my eye from Geisel's Yellow Springs Americana series. Recognizing my intrigue, Geisel shows how she combined three separate prints to recreate the wide stretching field of sunflowers at Whitehall farm. She reveals other choices—like subtle purple beads rather than a bolder dark brown—that she made in its construction. Luketic gives me a similar tour of a mixing bowl. Pleased that I recognize its intended practical purpose, he shows me how the bowl was made asymmetric so that its one over-curving side will catch ingredients and turn them back in the mix. The bowl is a luminous brown…evoking an enticing cup of milk chocolate after an afternoon of sledding. The vessel's weight is impressive, but its feel in my hands is balanced. I admit to Luketic my desire to take it home and make pasta within its basin. Before I take my leave with the bowl neatly wrapped for my continuing journey, I check out the necklaces from Alice Young-Basoro—a copper and silver hoops suspended by chain or soft leather strap and dangling hand-crafted beads.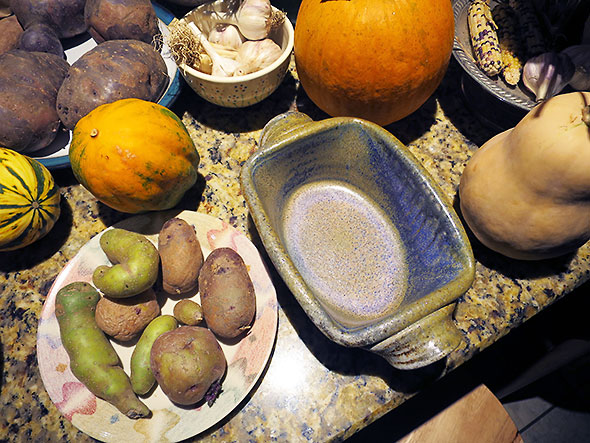 Naysan McIhargey greets me at the entrance of his studio Miami Valley Pottery. Over time, I've built up a collection of plant pots and serving and baking dishes from McIhargey. When I entered, I asked directly if he had any loaf pans—or rather loaf dishes—for sale. He had one small dish…the perfect dimensions for a homemade loaf…with handles. Turning it over in my hands, I am pleased with its size, shape, and especially the color of its glaze: burnt yellow and smoky blue.
McIhargey is host to two other artists: Lucy Chapman of Rosy Toes Designs and Vanessa Graham of Old Hills Design. Graham works in wood and metal making both jewelry and serving boards. I have met Chapman before and admired her textile work especially her wool designs. Along with her stunning bags featuring birds and dragons, I find leg warmers and scarves…items that promise to keep one warm and colorful through the cold drab winter.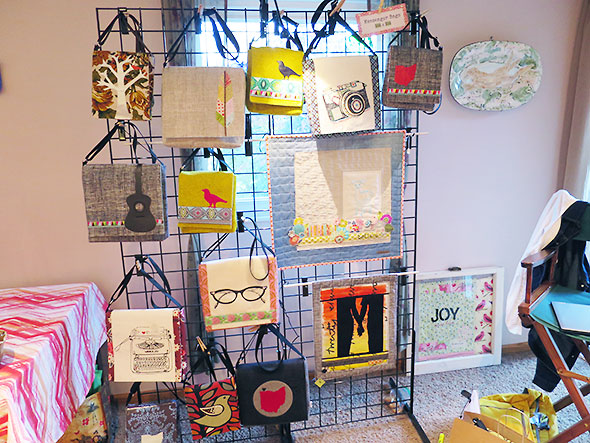 I return to the south side of town to visit Sara Gray's studio next. The room is bright with the afternoon light perfect to perk up the glass works that Gray specializes in. I spend time with Kim Gillie Krier whom Gray is hosting. I admire her handbags featuring textured fabrics and a strong central image. If you examine these charming pieces closely they hold a hidden message.
I've been too social in my look about to venture next to Clifton to check out the three studios on the circuit. Instead I cut through John Bryan and make my way up Meredith Road to Lisa Goldberg's studio. Goldberg organized the fifteen runs of the Artist Studio Tour and in her company seems a fitting place to wrap the day's adventure. As we sweep over the maps of previous years that Goldberg has mounted on the west wall of her studio, we talk about past and present supporters and the many gifts that the tour produces.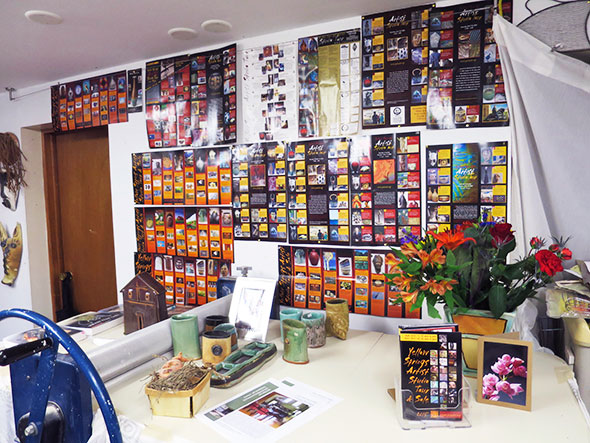 Yes, I admit that I got a good jump on Christmas shopping in my circuit on Sunday, but Goldberg and I agree that tours have gifted the community with much more. They've given supporters a deep appreciation for the craft, the dedication, and the ethic of the artists. They've surprised and delighted. They've inspired and illuminated. They bring us back home with a sense of purpose… and a story or two to tell.