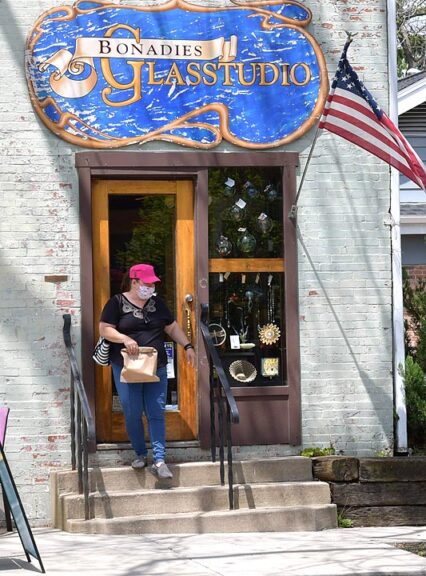 Yellow Springs Village Council mandates masks downtown
At a special meeting on Wednesday, July 8, Council passed two new laws to improve the safety of downtown Yellow Springs in the midst of the coronavirus pandemic.
The most significant was a new ordinance, passed unanimously, that mandates facial coverings downtown and on Village-owned properties when physical distancing of six feet is not possible. It applies as long as the Village's state of emergency is in effect.
The ordinance identifies three situations in which facial coverings must be worn:
When inside any indoor public place if physical distancing of six feet is not possible;

When waiting in line to enter an indoor public space.

When outdoors in public places when physical distancing is not possible
The latest measure goes a step further than a Village resolution, passed on June 15, that encouraged masks be downtown. While the resolution was described as a "formal statement," and had no enforcement provisions, the new ordinance includes escalating civil penalties if someone does not comply. Villagers had been urging Council in recent weeks to pass an enforceable ordinance.
The measure applies to customers inside all businesses in the central business district (see map), but only if they cannot be further than six feet from other people who are not in their group. The ordinance also applies to those walking on downtown sidewalks or visiting local municipal parks when physical distancing is not possible.
Exempt from facial coverings are those under age 10, those with a medical or mental health condition, athletes engaged in a sports activity and physically distanced, those riding a bicycle or driving a car through downtown streets, those eating at a restaurant and others.
The ordinance also states that those making a mask-related complaint may not do so anonymously; they have to agree to act as a witness if it came before a court.
The first infraction would carry a warning, followed by a $30 and then a $50 fine. In lieu of penalties, community service may instead be assigned.
Council also unanimously passed an emergency ordinance requiring all vendors and buskers in the downtown central business district to wear a facial covering. Vendors include those setting up tables on sidewalks and parking lots as well food truck operators. The measure also applies to musicians or other performers soliciting donations from the public. For food vendors, if they cannot wear a mask, then a clear, plastic barrier is required. A series of escalating fines are in place, followed by the revoking of a vendor's permit, are in place.
Both ordinances were passed as emergencies and goes into effect immediately.
You can read the ordinances in full here: Vendors & performers ordinance and Ordinance requiring masks.